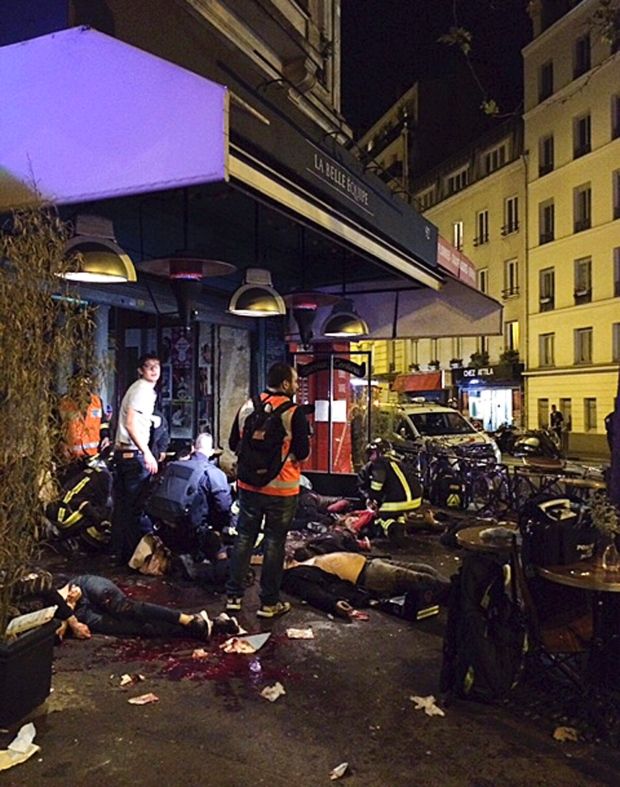 A series of attacks targeting young concert-goers, soccer fans and Parisians enjoying a Friday night out at popular nightspots killed at least 120 people in the deadliest violence to strike France since the Second World War. President François Hollande condemned it as terrorism and pledged that France would stand firm against its foes.
More than 200 were injured in at least six separate attacks around the capital Friday. The worst carnage was at a concert hall hosting an American rock band where scores of people were held hostage and attackers ended the standoff by detonating explosive belts. Police who stormed the building encountered a bloody scene of horror inside.
French police said they believe all of the attackers involved in the shootings and bombings are dead. The Associated Press reported that eight militants had been killed, seven of them in suicide bombings.
The Paris prosecutor's office spokeswoman Agnes Thibault-Lecuivre told The Associated Press that the eighth attacker was killed by security forces at the concert hall. She could not exclude the possibility that some attackers might still be at large. Authorities are searching for possible accomplices.
The attack unfolded with two suicide bombings and an explosion outside the national stadium during a soccer match between the French and German national teams. Within minutes, according to Paris police chief Michel Cadot, another group of attackers sprayed cafés outside the concert hall with machine gunfire, then stormed inside and opened fire on the panicked audience. As police closed in, they detonated explosive belts, killing themselves.
One witness told Radio France that the attackers came into the venue, where 1,500 people were attending a rock concert, and started shooting.
"They shot right into the crowd while shouting 'Allah Akbar' — with shotguns, I think … It was hell," one witness at Bataclan told Radio France, according to AFP.
In addition to the deaths at the concert hall, dozens of people were killed at the other attack sites.
"This is a terrible ordeal that, again, assails us," Hollande said. "We know where it comes from, who these criminals are, who these terrorists are."
Paris prosecutor François Molins said the investigation into the attacks will try to determine what happened at six sites around the city, including the Bataclan, where anywhere from 87 to 112 people were killed, according to various reports.
The other attack sites were:
The Stade de France in Saint-Denis north of Paris, where, French media reported, four people were killed in two suicide attacks and an explosion, including three attackers.
La Belle Equipe bar, 92 rue de Charonne Blvd. in the 11th arrondissement, where 18 people died.
Le Carillon restaurant, 18 Alibert St., and Le Petit Cambodge, 20 Alibert St., in the 10th arrondissement, where 14 died in total.
Voltaire Blvd., where one person was killed.
De la Fontaine au Roi St., where five deaths were reported.
'It's a horror'
According to reports, Hollande was at the soccer game and was evacuated from the stadium soon after reports of the attacks emerged.
"We will lead the fight. It will be ruthless," Hollande said outside the concert hall shortly after security forces had stormed the building, ending the siege.
"It was carnage," Marc Coupris told the Guardian newspaper after he was freed from the hostage-taking. "It looked like a battlefield, there was blood everywhere, there were bodies everywhere."

Source: cbc.ca
November 16 2015, 09:00