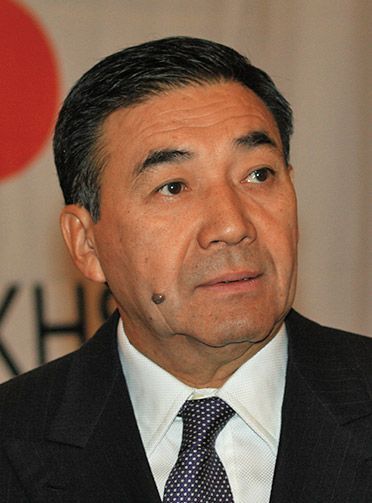 Today, 14 October, in Atyrau at the age of 68, after a long battle with cancer ex-Prime Minister of Kazakhstan Nurlan Balgimbayev passed away.

Nurlan Utepovich started his career working in Kazakh oil companies. During six years he worked as the deputy chief of a number of main departments of the Oil and Gas Ministry of the USSR in Moscow, then he studied at the Massachusetts University, went though training in "Chevron" corporation, later held the position of the Minister of Oil and Gas of Kazakhstan, President of "KazakhOil", Prime-Minister of Kazakhstan (1997-1999), and then again the head of "KazakhOil". After leaving civil service he started to work in private business, headed the Board of Directors of "Kazakhstan Petroleum Investment Company" JSC.
Since February, 2008 – he is the Adviser to the President of Kazakhstan, the Special Representative of Kazakhstan on issues concerning the use of resources of the Caspian Sea. Since December, 2009 - he is the CEO of the organization for implementation of projects with the Italian Oil and Gas company Eni.
When he was seriously ill, he was visited by his fellow countryman - Imangali Tasmagambetov, Bulat Utemuratov. The head of state Nursultan Nazarbayev visited Nurlan Utepovich during his last trip to Atyrau. It turned out that he visited to say goodbye to one of his most faithful companions.
N. Balgimbayev's funeral will take place on Friday, October 16, in Atyrau: at 8.00am at the house (on river embankment near the "Atyrau" sanatorium), zhanaza-prayer will be started, farewell ceremony will take place at 9.00am at House of Culture named after Dina Nurpeissova.
Our own information
October 14 2015, 16:46