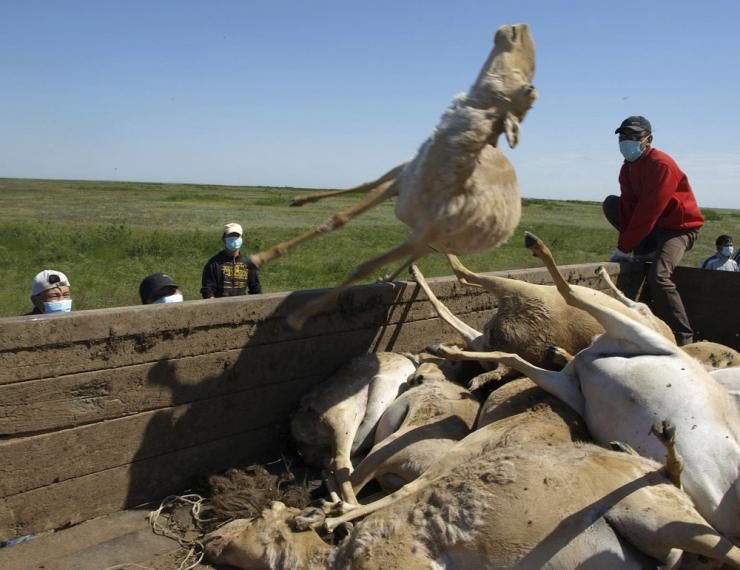 Two types of bacteria, which are normally benign, found in the gut of the endangered Saiga antelope, have turned deadly. It has resulted in the death since May 10 of half of the world's Saiga antelope population found in Kazakhstan.
Hours after the antelopes show symptoms such as depression, diarrhea and mouth frothing, the animals die. Since the ailment hit the antelopes during calving season, it caused the decimation of herds of the female antelope and their newborns, reports BBC.
An international team is in Kazakhstan to study the phenomenon. Richard Kock, wildlife veterinarian of the Royal Veterinary College in London who joined the team, said the animals had respiratory problems, causing it to have breathing difficulty. This caused the female adult antelopes to stop eating and become extremely depressed. After the mothers die, their calves follow within one or two days.
Experts believe something triggered the reduced immunity of the antelope to the two bacteria – pasteurelosis and clostridia – found in the gut of all the dead animals they examined. One theory is the changing climate as the animals were exposed to a very cold winter, followed by a wet spring which could have affected the antelope's immune system and made it more vulnerable to the bacteria.
Kock said, "Epidemiologically, you cannot get a directly transmitted disease to kill a whole population in seven days … I'd say it's a polymicrobial disease," quotes Nature.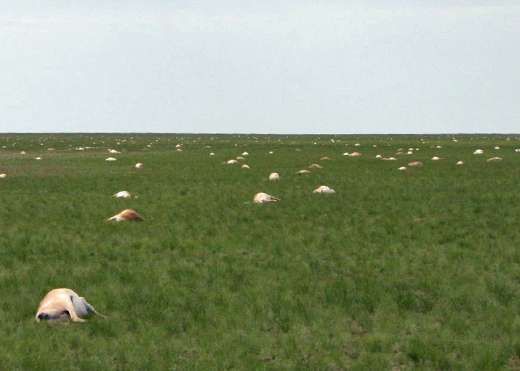 Russian state agricultural supervision agency "Rosselkhoznadzor" reported that employees of in-house service "Federal Center of Health Protection of Animals" conducted on June 1-2 the researches of pathologic material of saigas from Akmola, Aktobe and Kostanai regions of Kazakhstan.
"As the result of conducted researches the specialists of the Center excluded such especially dangerous diseases as foot-and-mouth disease, MRS plague, smallpox of sheep and goats and bluetongue. In all studied samples they found type B Pasteurella multocida - the activator of haemorrhagic septicemia" – Rosselkhoznadzor reported.
According to the conclusion of the Center of health protection of animals, this very illness became the reason of mass death of saigas in Kazakhstan.
Hemorrhagic septicemia is an acute pasteurellosis, which occurs notably in cattle and water buffalo, and to lesser degrees in other ruminants as well as other animals. It is caused by Pasteurella multocida bacteria, and can be rapidly fatal. It is "characterized by a sudden onset of high fever, shortness of breath, salivation, hot painful subcutaneous swellings and submucosal petechiae and death in about 24 hours."
The Saiga antelope, which is known for coping with extreme temperatures, are found on Kazakhstan's central Asian steppes. It is as big as a large sheep and its population, spread from Britain to China, used to be in the millions. When the Soviet Union collapsed, its headcount dwindled to as low as 50,000 due to over hunting.
The incident cause global population of the Saiga antelope to decrease to 120,000 from 250,000. Although there were incidents of Saiga antelope die-offs in 1984, 2010 and 2012, this year's incident is the worse since it halved the animal's global population.
Source: azh.kz On a photo: Men load a trailer with carcasses of dead Saiga antelopes in a field, some 600 km (373 miles) south-west from Uralsk town, in western Kazakhstan in this May 22, 2010 photo. Around 12,000 endangered Saiga antelopes, killed by a suspected pasteurellosis infection, were found dead in Kazakhstan over the last few days, local media reported. Picture taken May 22, 2010 (Reuters).
June 8 2015, 16:38