By Zeena Urynbassarova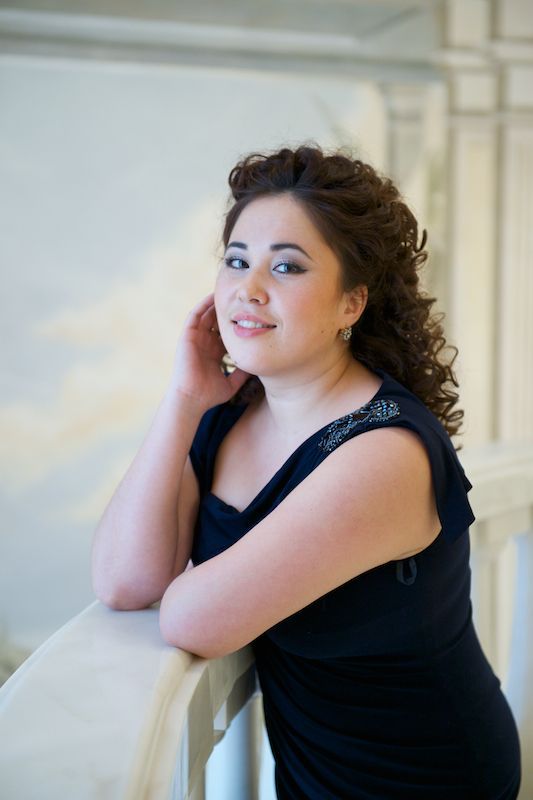 Saltanat Akhmetova, the soloist of "Astana Opera", became the sensation after her victory in "Big Opera" Russian television project where among the members of the jury was Elena Obraztsova herself.

I managed to interview her during rehearsal breaks in Astrakhan where Saltanat performed with Atyrau orchestra of national instruments named after Dina Nurpeisova, at the concert organized by RoK Embassy in Russia with assistance of RoK Ministry of Culture and Administration of the Astrakhan region.
The concert was held on May 27 on the stage of grandiose Astrakhan opera and ballet theater and became one of practical implementations of those agreements reached at the last year's Forum of Interregional Cooperation in Atyrau.
"EVEN AS A CHILD I TRIED TO SING HIGH NOTES"
- Saltanat, as well as many others, I was fascinated by your performance of "Queen of Night" aria from Mozart's "Magic Flute" opera that you sang at the final of "Big Opera" TV project. You are a real sensation, a discovery, both for the Russian and Kazakhstan audience. Could you tell about your background, where you are from, where you grew up…
- I was born and grew up in Kokshetau, graduated from music school where I took piano classes, then entered the singing school of musical college named after Birzhan-sal where Zhakyp Koushkembaev was my first teacher. He allowed me to enter the college at the age of 14, although my voice was still not strong, but he believed in me. And later he sent me to continue my study at the class of the Honoured Artist of Kazakhstan Khorlan Kalilambekova. They are my first teachers and I am very much obliged to them.
My mother sent me and my little sister Leila to music school when we were kids. In our family we all love music. As far back as I can remember - I always sang, participated in children's singing competitions. Robertino Loretto's singing made a very strong impression on me in my childhood and I liked to copy him. Once I heard the song called "Bulbul" over the radio. It was performed by Bibigul Tulegenova. At that moment it seemed to me that it is unreal to sing like that, but now "Bulbul" is one of my favorite songs in my repertoire. Generally speaking, I always tried to take very high notes when I was a child and it was some kind of boldness to manage to sing the highest note.
Since childhood our mother fostered diligence and responsibility in us and those qualities became useful in my adulthood.
- And when had you the desire to sing professionally?
– I always dreamed to sing, and to sing in the opera. But because you can only start your opera singing career at the age of 17, and I graduated from school at the age of 14, I decided to enter the foreign languages uni. My mother became frightened that I will be still a child among adult students and advised to go to musical college. After graduating the college I entered the Kazakh National Academy of Music in Astana. After the 3rd year of study I was accepted into the troupe of National Opera and Ballet Theater named after Kulyash Baiseitova.
WHAT A VOICE!
- When my mother heard your singing, she exclaimed: "I am stunned. Kulyash is born again! What a voice!". She heard Kulyash Baiseitova's singing in 1948 when she studied in Uni in Almaty.
- Kulyash, Khorlan, Bibigul – they are the brightest representatives of the Kazakh vocal school. They are the stars to steer by.
- You once said that your meeting with Khorlan Kalilambekova was your greatest luck.
- Undoubtedly. She used to be the prima of Abai Opera theater. Specially for her voice and her temperament the composers created operas. By the way, I currently work on Katya's aria from "Virgin Land" opera by Erkegali Rakhmadiev, who wrote this opera specially for Khorlan. When she went for training to the Bulgarian Opera Theater, and when they heard her singing, she was accepted not as a trainee, but as a touring singer and on the Bulgarian opera stage she sang both Rigoletto and Traviata and many other things.
- You are the winner of several international competitions, but a wide popularity came after your victory in " Big Opera" project. How did you come to this project?
- I was invited to "Big Opera" project after they heard my singing in 2013 at the competition in Germany called Neue Stimmen ("New voices"). This is a very prestigious international vocal competition that is held for 25 years now. In 2013 Kazakhstan participated in that contest for the first time. Over 1 500 applications were submitted for competition, but jury selected only 40 singers. I was among 9 finalists and won a special prize. This contest provides good opportunity to sing on the European stage and represent and glorify Kazakhstan.
– On the stage you gives the impression of unreachable person, especially when you sing difficult arias, but during our conversation you appear to be a very natural, cheerful and gentle person …
- If I stand on the stage and I sing for a large audience, it doesn't mean that I am an unusual person. Deep in my heart I am simply Saltanat from Kokshetau, the lady who likes singing, loves ice creams, cakes, and have a good nap (laughs). I also would love to destroy the image of a little detached opera singer, and not to be afraid to appear as a naughty teenager - in a baseball cap, sneakers and t-shirts …
GOOD SLEEP AND TASTY SLAB OF MEAT
- What factors effect on singer's voice?
- There are many factors. When you are 20 and 40 - your voice sounds differently and it is caused by your growing up, by physiology plus your gained life experience and special knowledge. I have, for example, lyrical - coloratura soprano, but during participation in " Big Opera" experts found that I have drama coloratura … Probably, my voice is still in the course of formation.
- How was it to sing with our orchestra named after Dina Nurpeisova? How did you work with its chief conductor Orak Zhaurov?
- With Dina Nurpeisova's orchestra I sang for the first time, but the impression was that we worked together for a long time. And we had only two rehearsals! The orchestra has professional musicians and a talented conductor.
- Each soloist has the ritual of preparation for performance. Some drink raw eggs, some rinse their throats with erisimo grass ("the singer's grass") and what does Saltanat Akhmetova do?
- For me it is important to have a good sleep so that in the morning the voice sounds fresh and vigorous. And I also have a tradition: in the evening on the eve of the performance I eat a good slab of meat that that I have energy the next day. This was the advise given by my teacher Khorlan Kalilambekova.
- Your wishes to the singers who are just starting their singing career?
- To be dedicated and not to be afraid to have big dreams. You should believe in yourself and of course, you should work hard to keep your dream alive and to achieve your goal.
- Saltanat, you are the pride of Kazakhstan and I am sure that you will win world-wide fame!
- Thanks!
CUT-IN

Orak Zhaurov, chief conductor of Atyrau Kazakh national instruments orchestra named after Dina Nurpeisova:
- To work with such soloists as Saltanat - is a real pleasure. She is a rare talent and possesses a surprising voice. After the first rehearsal the musicians of our orchestra in sing of acknowledgement started applauding by tapping on their musical instruments and music stands. It is the standard tradition in all orchestras, but they applaud to only those soloists whom the orchestra recognizes. I am sure that Saltanat has a big future.
June 4 2015, 12:51