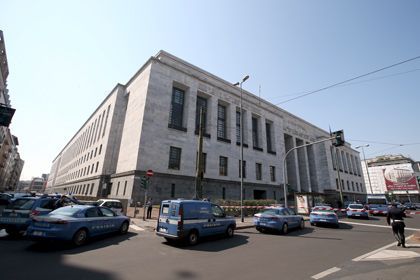 Three people have reportedly been killed by a gunman this morning - thought to be the defendant in a bankruptcy case.
An investigation is underway into how an armed man could have entered the court building.
Milan mayor Giuliano Pisapia said that authorities were trying to understand how the gunman could have entered the building with a weapon.
An Italian news site has reported that one of the metal detectors at the court may have been broken this morning.
Questions have been raised about how the gunman was able to bring a weapon into the court room given the usual security measures.
A witness to the shooting has described the moment he found his fellow lawyer shot in cold blood.
"I entered the classroom of the Second Criminal Chamber as soon as I heard the shots and saw my colleague the lawyer Lorenzo Alberto Claris Appiani, lying on the ground with his shirt stained with blood," a lawyer told Italian news site Giornalettismo.
Mr Appiani is reportedly one of those killed during the courtroom shooting this morning.
The Milan court was evacuated after the gunman opened fire in the middle of a courtroom.
He initially barricaded himself inside before making his escape - only to be arrested shortly after.
There are three confirmed dead now, Italian media is reporting.
The second man killed is described as a young lawyer, Lorenzo Alberto Claris Appiani.
There are also two injured including one hospitalized in critical condition.
The gunman was arrested while escaping on motorbike, it has been claimed.
He was already on the northern side of Milan have fled the court building.
The death toll currently stands at three after the shooting, believed to have happened during a bankruptcy case.
Source: mirror.co.uk Photo:reuters
April 9 2015, 16:46