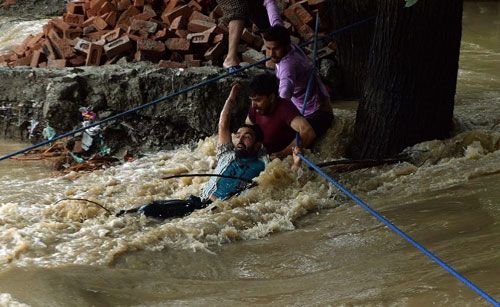 A man being rescued from teh storm. AFP PHOTOPowerful storms swept Bangladesh at the weekend leaving a trail of devastation in the country's northwest and killing at least 35 people, officials said Monday.
Rescuers and villagers recovered the bodies of victims after storms flattened thousands of houses, uprooted trees and electricity poles and damaged paddy fields across a large area on Saturday night and Sunday.
Nineteen people died in the northern district of Bogra, government administrator of the district Shafiqur Reza Biswas told AFP, adding that more than 100 people were injured.
"They died mostly after they were hit by falling trees or collapsed houses and walls," he said, adding that authorities have sent emergency relief to thousands of villagers hit by the storm.
In neighbouring Rajshahi district at least five people were killed and 27 injured as the storm hit a large area of low-lying land, another administrator said."At least 6,960 mud and tin-built houses were completely damaged by the storm," said Mejbah Uddin Chowdhury.
In the western district of Kushtia two people died and around 100 houses were flattened by the storm on Sunday, said government official Uttam Barua.There were also fatalities in at least five more districts, the mass-circulation English-language newspaper Daily Star reported.
Storms known locally as Kalboishakhi often hit Bangladesh during the early summer in the lead-up to the monsoon, which usually begins about the first week of June.
Source: AFP
April 6 2015, 16:35