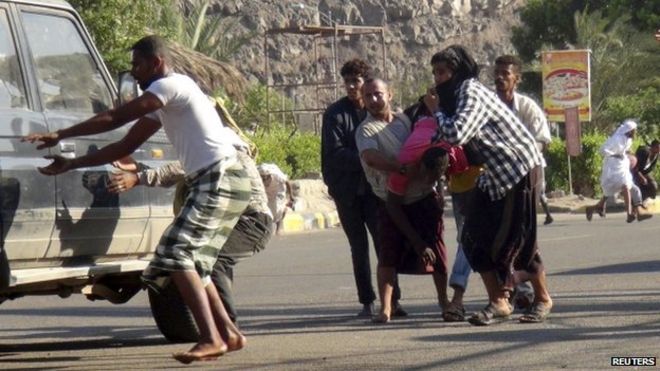 he Red Cross says a ceasefire is desperately needed to halt civilian deathsThe International Committee of the Red Cross is due to make two emergency aid flights into Yemen's capital, Sanaa.
The ICRC has been given permission to land planes carrying staff and medical supplies in Yemen, which it says is facing a humanitarian emergency.
Saudi-led airstrikes targeting Houthi rebels have hit the country for 12 nights.
Fighting has intensified in the southern port of Aden, as government troops battle the Houthis.
The UN says more than 500 people have been killed over the past two weeks in Yemen.
The ICRC says it will send a cargo plane carrying vital medical supplies, and a small passenger plane of aid workers.
However, it is still awaiting approval to send a surgical team by boat to Aden.
Spokesperson Marie Claire Feghali has warned that the humanitarian situation in the city is "dire."
"People cannot go out to buy food, we know that there is a lack of water in the city because the water pipes have been damaged, we are trying to do everything we can but the situation is extremely difficult," she told the BBC.
The Red Cross has called for a 24-hour ceasefire in Aden, while Russia has also urged the UN Security Council to support a "humanitarian pause" in the airstrikes.
Meanwhile, Pakistan's parliament is due to hold a special session to debate whether to join the Saudi-led coalition.
This follows Pakistani aircraft rescuing 170 people from Sanaa on Sunday. More than 800 Pakistani citizens have already left the country.
Flights from China, Egypt, Sudan and Djibouti are also scheduled, according to the Saudi-led coalition.
Russia, India and Indonesia are among other countries to have already carried out evacuations amid increasing international concern.
Houthi rebels have been fighting intense street battles in Aden against forces loyal to President Abdrabbuh Mansour Hadi.
The president was forced to flee Yemen two weeks ago, as the rebels advanced on Aden.
The Houthis have said their aim is to replace President Hadi's government, which they accuse of being corrupt.
They are supported by troops loyal to the former president Ali Abdullah Saleh, who was ousted in the Arab Spring protests.
Saudi Arabia says the Houthis have military backing from regional rival Iran, which denies the allegation.
April 6 2015, 09:40