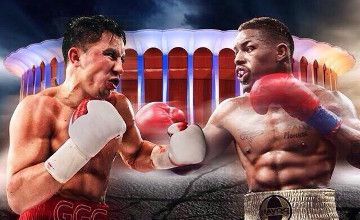 This past Friday it was announced that Boxcino 2014 Middleweight champion Willie Monroe Jr. has accepted the challenge and will fight WBA/IBO and WBC Interim Middleweight champion Gennady Golovkin on May 16 at the Forum in Inglewood, California.
"On May 16, I will shock the world," Monroe said.
"I think this is an awesome fight. We have two contrasting styles and that will make for some spontaneous combustion. We will see which style comes out on top on May 16," he said.

"I want to thank Banner Promotions for standing by me. I also want to thank GGG for accepting the fight. This is a risky fight for him because people have not given me the credit for who I am. I want to also thank Brian Kweder and John Campagna of ESPN for the platform of the Boxcino tournament. I know that it was those three fights that really spingboarded me into this position," continued Monroe, for more information log on to Fighthype.com.
Ticket sales for the fight between world boxing champion in the middleweight Gennady Golovkin and contender Willie Monroe Jr starts on March 17, 12 pm, PDT, the official account GGG informs via social networks.
30, 60, 100, 200 and 300 dollars tickets will be available through Ticketmaster.com.
"The price starts at 30 dollars, this is good value for all lovers of this sport. As long as his last fight was sold out so quickly we call you to buy tickets beforehand," Tom Loeffler, G. Golovkin's promoter said.
Source: inform.kz
March 17 2015, 11:05