By Zulfiya Iskalieva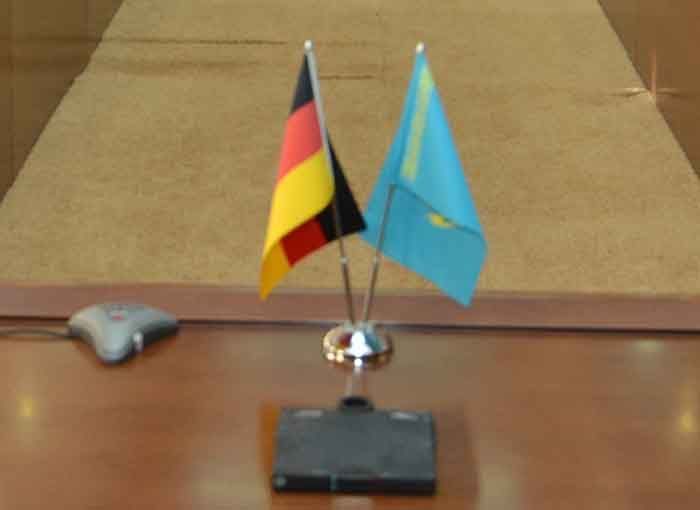 "The Fund of the German economy "The Service of Senior Experts" (SES) can help local firms to bring the work of their companies in line with international standards and to win through into TCO tenders' participants", - says with confidence the deputy director of regional chamber of businessmen Nurzhan Ganimurat.
Local businessmen and the heads of higher educational institutions met with the representative of "The Service of Senior Experts" (SES) - Yana Tikhomirova. The meeting was organized by the regional chamber of businessmen on March 6 in Atyrau.
– Literally the other day at the annual Kaznefteservice-2015 conference TCO assured that that it is ready to consider applications from local companies, but their requirements are simply impracticable. Future Growth Project (FGP) in Tengiz and other major oil projects are, in actual fact, the state inside the state, with their own rules and terms. Invited German expert, I think, will help local businessmen to break through those barriers, - believes Nurzhan Ganimurat.
He advised to take into account the requirements of major oil companies when skilled experts are selected. For example, recently the National Chamber of Entrepreneurs invited the welder from Switzerland because he had a wide experience in AWS - American standards of welding. There is also the EN - European standard of welding, but taking into account the fact that in oil industry in our region prevail Anglo-Saxon companies, the first option was more preferable.
(Update)
SES is the leading German public organization that sends experts and retired lead employees to projects in different countries of the world. The idea of establishing such service was generated by the heads of largest German companies in late seventies. Practical Germans couldn't agree with the thought that all efforts put into training of experts and their experience shouldn't vanish with their retirement. The government of the country supported this idea of the businesses, and, as a result, in 1983 the service of senior experts have been established. Though the organization is non-governmental, the state actively supports its activity. Since the beginning of SES activity they implmented more than 38 thousand projects. They have over 11 thousand experts worldwide. They all are volunteers and work for free.
Nearly half of SES projects fall on small and medium businesses, then come the support to educational and medical institutions – both state and private. Everyone can apply to SES for the help, however they don't provide assistance to military business, police structures and doesn't support start-ups.
SES covers all expenses related to selection of experts, processing of projects, registration of professional and health insurance, return air fares of experts. Expenses for accommodation, meals and local transport, daily allowance of 5 euros and payment for translator's services are covered by the host. For schools and colleges SES also covers meals and daily allowances, for NGOs and social institutions SES can cover accommodation and translation services.
Yana Tikhomirova said about the experience of experts in various cities of Kazakhstan. In Atyrau last year and in 2015 three experts provided training. "Bolashak"NGO invited a rehabilitation expert Annette Haints with 30-years of experience (see "How to avoid to become a disabled person"), then culinary art expert George Meding trained our cooks (see "Lessons of the German cook"), and quite recently German welder Max Herman Hoizer, qualified teacher of welding, taught argon and other types of welding here in Atyrau (see "Certificates from professor of welding").
March 10 2015, 12:59