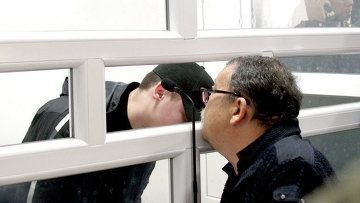 Serik Sarsenov, the lawyer of Kazakh soldier Vladislav Chelakh accused of killing 15 people at Arkankergen frontier post, failed to show up in the court of Taldykorgan city after he left the session due to feeling bad.
Reportedly, on Thursday morning Sarsenov asked the judge if he could leave the session due to feeling sick.
The lawyer says he had to check his blood pressure, blood sugar level and take other medical procedures.
The judge told Sarsenov to advise the court his health condition after a break.
"Lawyer Sarsenov was recommended to receive treatment at home. He left for Almaty to take a 5-day medical treatment," Serik Estiyarov, the second lawyer, said to the court.
In his turn, the judge Yerbol Akhmetzhanov reminded that Sarsenov had been instructed to come back to the court and advise his health condition, but not "to convey the message via the second lawyer."

The judge emphasized that "thus the court is unaware of the reason for Sarsenov's absence, therefore it believes it may continue to review the case without him."

Sarsenov had told the court he felt unwell after the court denied to consider his motion to recuse the judge Akmetzhanov.
According to the lawyer, the judge is flagrantly violating the existing legislation, abusing power and denying Chelakh's right to receive a qualified legal support.
In particular, Sarsenov is resented over the judge's refusal to examine the video of investigation process in full extent in the session room.
The second defense lawyer Yestiyarov was engaged in the process in order to represent the defendant's interests during consideration of secret materials and he has the relevant access, while Chelakh's main lawyer Sarsenov has not.

The court looked through the materials with secret information on Wednesday evening, on November 28.
As previously reported, 3 out of 56 volumes of the criminal case bear confidential character, specifically, they contain information related to the activities of border service of Kazakhstan's National Security Committee.

WKT citing IA Novosti-KZ
November 29 2012, 16:36