By Anastassiya Pastoukhova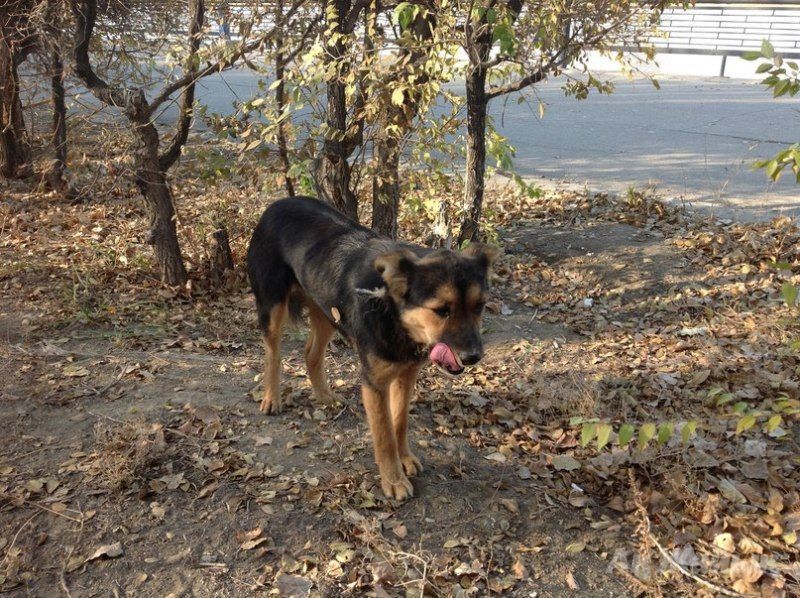 Children from the society "Help to Homeless Animals of Atyrau" and simply compassionate citizens of our city, at last, managed to catch an unfortunate mongrel with the rope on its neck near the "Sanatorium" city district.
To recall, in December of last year Tatyana Mayorova and Elena Schukina approached our editorial office and asked for help (see "The story of Graff and others"). They then organized the society that could help the homeless four-legged animals.
They sought for help to rescue "the Sanatorium mongrel": its neck was tied with the rope. It probably happened when the puppy was just born, because it was very tight and as the dog grew the wound on the neck was getting worse: it got into the skin, cut the muscles and made its breathing difficult. The girls tried to make friends with the dog, but it used to run away and all their attempts were in vain – the dog wouldn't allow them to come close.
After our publication there were many phone calls from people who proposed various methods for catching the dog to remove the rope: to throw fishing net over it, or to give her a sleeping pill.
The number of compassionate people was so big that there was a real hunt after that dog.
A year later, at last, the dog was caught.
– … We took food, demulcents and a big net and went to the place where we last time saw Masha (after one year the dog received a nickname),- said volunteers. It wasn't our first attempt. We were exhausted by this bustle, and the dog was weakened and frightened. A few later, we managed to trap it into a net. After that we took the dog to the veterinarian and safely removed the rope which tormented her for such a long time. Now Masha lives in the same place where it lived before. Some goodhearted people built a dog-house for her.
The volunteers' society now is renamed to "The right to live". There are about ten guys and girls in the society and they are determined to help the homeless animals.
- Many people showed interest to our group, however, the number of permanent volunteers is not much, -says Tatyana Mayorova. - We rescued and found owners for more than 200 stray dogs and cats. Our pages in social networks with the stories and photos of the animals enjoy popularity, and many people help us: they bring food, medicines, sometimes simply kind word give us encouragement. Thanks.
December 18 2014, 16:30