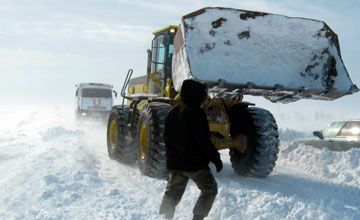 Credit:MES of RoKKokshetau. Last week-end the rescuers freed from snow trap about 100 people in Akmola Oblast, reported on Monday the press service of oblast emergency department.
Press service reported that rescue teams conducted a number of emergency-rescue operations.
"On the 14th km of Atbasar-Kyima highway (Akmola oblast) a bus with 23 passengers was broken down. Passengers were evacuated to the place of their destination to Kyima village, says the report.
Another passenger bus with 20 people was trapped in snow wreath in Burabai district. The bus was towed off to the police station.
"In Ermentau district 14 cars with 49 people were caught in snow wreath. Snow removal equipment cleared the road to allow the trapped cars to continue their journey,"-reads the report.
WKT citing IA-Novosti-Kazakhstan
November 26 2012, 10:28