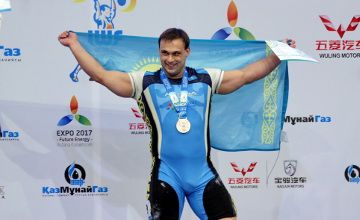 Ilya IlyinThe Kazakhstan weight-lifter Ilya Ilyin in push, lifted a bar weighing 242 kg, broke a world record and became the four-time world champion, bnews.kz reports.
Ilyin executed the first exit in a push weighing 233 kg though the initial demand of Ilya was 230 kg. The second demand of trainers made 234 kg, after the auction, Ilya came to a scaffold with the demand of 239 kg, however didn't hold a bar. The third exit to fans came to the end for the Kazakhstan citizen with a bar in 242 kg, thereby the weightlifter kept the promise made earlier and broke a world record.

Performance in a push again was not simple for each of the weight-lifter. To fulfill on a scaffold "purely" it turned out only at the athlete from Uzbekistan Ruslan Nurudinov.

One of the main rivals of Ilyin Russian athlete David Bedzhanyan, didn't hold a bar in 236 kg in the second exit, having beaten in the third calling the Russian broke own record, having lifted 240 kg.

The weight-lifter from Ecuador descended from the second exercise, it had three unsuccessful attempts in breakthrough (180, 182, 182 kg).

In breakthrough Ilyin showed the third result, having executed all three approaches without mistakes and having subdued a bar weighing 190 kg.
November 17 2014, 04:57