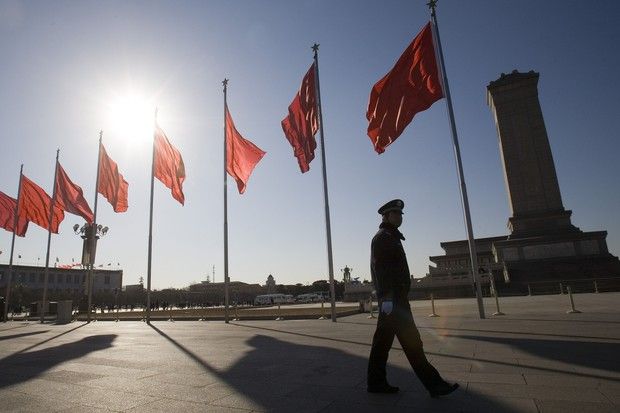 A police officer patrols Tiananmen Square.Last time China hosted the Asia-Pacific leaders' summit, in 2001, then-PresidentJiang Zemin vowed to follow international rules as his nation was on the cusp of joining the World Trade Organization.
As leaders from the 21-member Asia-Pacific Economic Cooperation forum gather in Beijing next week, they'll visit an economy that's about eight times larger and be hosted by a leader now seeking to reshape global rules and organizations, bloomberg.com reports.
Trumpeting China's "great rejuvenation," President Xi Jinping has been pushing regional maritime claims and expanding its economic clout with neighbors via trade and investment. In the days leading up to the meeting, China has sought to set the agenda, backing a regional free-trade zone over U.S.-led trade pact talks, signing agreements on a $50 billion regional bank to finance infrastructure and announcing a new fund to rekindle the historic Silk Road trading route.
"Back in 2001, China was asking humbly to get into the room; in 2014, China wants to take center stage," said Chen Fengying, a senior fellow researcher with the China Institute of Contemporary International Relations, a government research agency, in Beijing. "China is now playing offensive, not defensive."
As China's GDP, by dollar terms, expanded from $1.2 trillion in 2000 to more than $9 trillion in 2013, the country is poised to seek greater influence, Chen said.
"China has accumulated massive national wealth under Deng Xiaoping, Jiang Zemin and Hu Jintao, and now Xi Jinping can turn the wealth into power," she said.
November 7 2014, 12:26