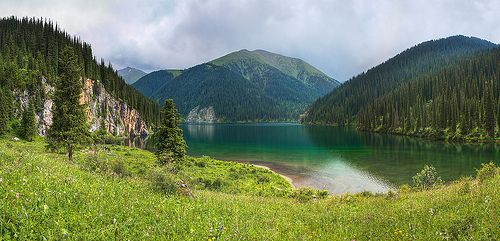 Kolsai Lake, Kazakhstan. Almaty. November 1. The first Conference of Kazakhstan geographical society "Earth and People's potential" discuss the project offered by UNESCO to create geoparks in Kazakhstan, BNews.kz correspondent reports.
As the main expert of geology and metallogeny, corresponding member of Kazakhstan Mineral Resources Academy Ilya Fishman considers, the project will help to develop the tourism in Kazakhstan's regions.

"Kazakhstan nature is able to surprise even most exacting tourists. We intend to Kazakhstan scientists, how unique nature can be turned into geoparks, bringing the benefit to the country and budget. Economically problem regions have their geoplaces for tourists but the world doesn't know about them, neither do Kazakhstan citizens. Geoparks will let all of us to learn more about our homeland and be more proud of its beauty," I. Fishman said.

According to the scientist, there are no geoparks in Kazakhstan at all. Meanwhile, there is a huge geoparks network in Europe. Each of them is included into UNESCO organization.

"There are territories which remained in the invariable look since the time of dinosaurs in Kazakhstan," the chairman of "KazGeo" presidium Nurlan Abduov said.

As the official representative of UNESCO Arthur Augustin de Obra E Sa explained, a geopark helps to keep the nature and at the same time promotes the development of a region it's located on.

"The geopark allows to develop the tourism. I see the future of Kazakhstan in the development of geoparks because Kazakhstan is a big country with very rich nature," UNESCO representative concluded.
bnews.kz
November 2 2012, 16:18