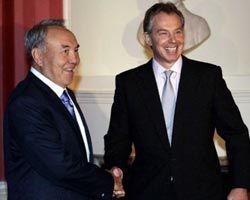 Kazakhstan considers raising the payment to Britain's ex PM up to £16mln. It is expected that discussion of all terms will end within few weeks.

Last year Tony Blair hired advisors for Kazakhstan and then the agreement was estimated at £8mln.
Kazakhstan's government received consultations on judicial, economic and political reforms.
Ex PM's office confirmed that his cooperation with our country will extend for at least one year.
Blair's team will offer recommendations on how to establish order in government procurement, help work out green growth strategy and reform regulatory system.
It is underlined that the money will not be paid to Blair personally, but 'will go to business purposes.'

WKT citing Nur.kz
November 2 2012, 15:58