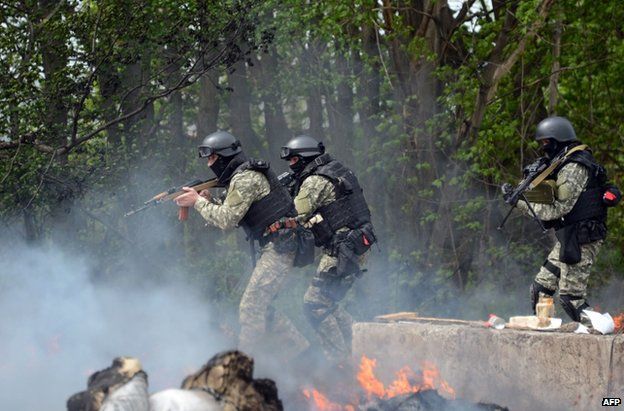 Ukrainian commandos outside Sloviansk on Thursday
Commandos have moved on the separatist stronghold of Sloviansk in eastern Ukraine days after a new "anti-terrorist" operation was announced.
A number of casualties were reported among the separatists as the commandos, backed by armour, cleared barricades near the town.

Separatists are occupying key buildings in at least a dozen eastern towns.

Russian President Vladimir Putin warned of "consequences" if Kiev used the army against its own people.

Speaking on Russian TV as news of the Sloviansk operation was coming in, Mr Putin said: "If the regime in Kiev has begun using the army against the population inside the country, then this is undoubtedly a very serious crime."
It appears that pro-government forces have regained control of the city hall in another eastern town, Mariupol.

In another development, the funeral is taking place of a pro-Ukrainian politician, Volodymyr Rybak, who was abducted and killed in Donetsk region.

Meanwhile, US President Barack Obama has accused Russia of flouting a deal on Ukraine reached in Geneva last week, under which illegal armed groups, including those who have seized public buildings, would return home.

Mr Obama told a news conference in Japan that Moscow had failed to halt actions by militants in the region and warned that the US had further sanctions against Russia "teed up".

A contingent of US troops has begun landing in Poland for military exercises amid concerns among Nato's eastern members about Russian intentions.

Moscow has said it will respond to any attack on its interests in Ukraine.

Unrest began in Ukraine last November over whether the country should look towards Moscow or the West.
Army operation

One roadblock near Sloviansk, in Donetsk region, could be seen on fire amid reports that separatists had abandoned it when Ukrainian soldiers approached.

As many as five separatists were killed, according to Ukraine's interior ministry. An aide to Sloviansk's self-appointed mayor said two people had died.

The centre of Sloviansk itself was relatively calm, BBC correspondent Steve Rosenberg reported. Several pro-Russian armed foot patrols were on the streets but people were out walking, he said.

An initial operation against the separatists on 16 April became bogged down in Sloviansk, where Ukrainian soldiers abandoned their troop carriers to protesters.

Elsewhere, Interior Minister Arsen Avakov announced that the city hall in Mariupol, a port on the Sea of Azov in the Donetsk region, had been "liberated" overnight, although there was no independent confirmation. "Civic activists" played a major part in the operation, he said.

Several people were said to have been hurt during the overnight operation in Mariupol, where three pro-Russian protesters were killed when Ukrainian security forces fought off a raid on a base on 17 April.
According to the local news website 0629, a group of about 30 unidentified men in their twenties armed with baseball bats stormed the mayor's office between 03:00 (01:00 GMT) and 04:00 on Thursday.

The protesters called the police who reportedly came out and calmed down the opposing sides.

Negotiations are under way at the scene between the separatists, the local pro-Ukrainian authorities and the police, the site says.

While the interior minister said nobody had been hurt in the operation, 0629 reported that five men were injured, though not seriously.

Mr Avakov also said that Ukrainian troops in Artemivsk, another town in the Donetsk region, had fended off an attempt by dozens of pro-Russian militants to seize weapons from a military unit. One soldier was wounded, he said.

Unverified footage of military helicopters, said to be flying over Artemivsk, was posted by a blogger on YouTube.

A local journalist, Anna Bokovaya, told Russian TV that about 50 people had taken part in the attack on the military unit, which lasted 45 minutes.

The militants began the attack after the soldiers inside rejected a demand to surrender, she said. The town was calm again on Thursday morning, she added.
April 24 2014, 16:00