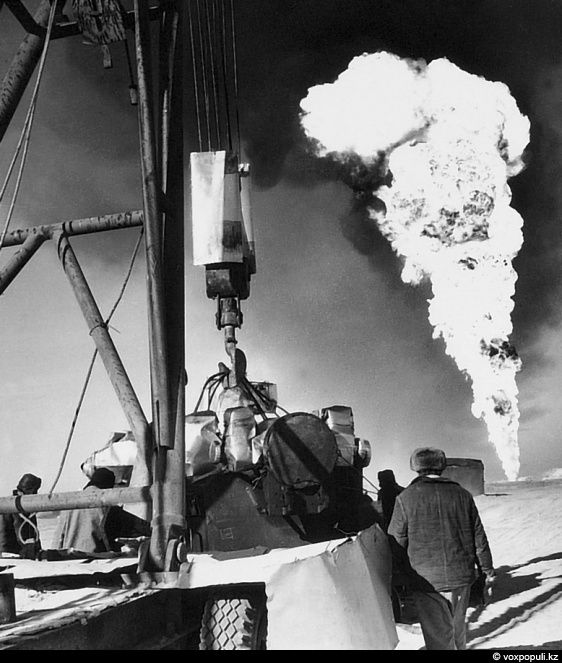 Upon the analysis of information from various sources including the articles of V.I. Smirnov (Volgograd, Russia) and 'Drillman's notes' by Z. Zhukatayev (Atyrau) we offer to our readers a Tengiz related topic of interest – the notorious well No.37, of which story has been long kept in the shadows.
PREHISTORY
In late 1980s EmbaNeft Production Branch was tasked to sort out the infamous well No.37.
To recall, a failure in the well ended up a giant 300m high and 50m wide column of flame hitting from beneath the earth. Temperature around the well reached 1500oC turning the soil into glassy mass.
Radius of negative impact stretched up to 400km rocketing people's sickness rate by 50% and killing thousands of migrating birds.
What happened to the well later and what is the situation today?
AFTER DISASTER
The below extracts out of the conclusion of state commission from the USSR Ministry of Oil Industry read (summer, 1986):
1. The world has never seen such a powerful ejection of oil, therefore no country has experience and methodology of responding to disasters of this kind;
2. Instead of subsurface nuclear explosion, a method used to suppress discharge of oil and gases, another tactics was selected – an inclined well was drilled in order to hit the bore of the failure well and squeeze it with weighted fluid.
3. Thorough study of all potential environmental impacts should be conducted after the discharge of unusually huge volumes of oil and gas involuntary set in fire above the well. 50km security zones around similar wells are recommended.
4. USSR needs a scientific production center with up-to-date hardware in order to ensure prevention and successful killing of disastrous oil and gas fountains in Soviet oilfields; as well as a scientific research institute to share experience and recommendations on responding to such disasters.
However, the last two items are still undone. I remind that after the catastrophe, in the same year, 1986, it was attempted to submerse a combined 127-168mm production column into Well No.37.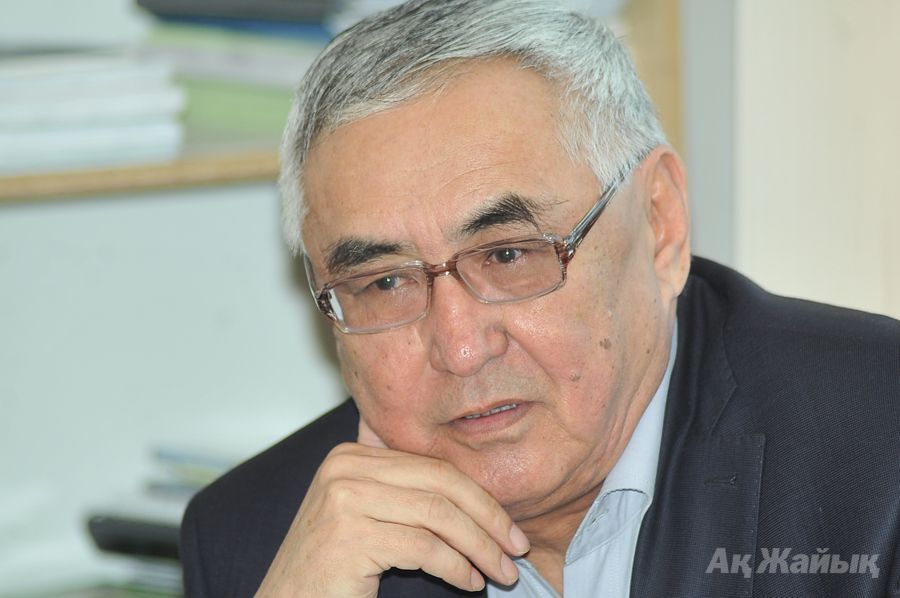 M. Khakimov, the Chairman of Caspi Tabigaty NGO
The thing is the integrity of casing strings and concrete layer had broken during the disaster, particularly service casing (diameter: 245mm). Owing to this, the production column could only be descended to 3,060m and then allegedly was firmly cemented.
But that's not true – geophysical report (Cement bond log) on Well No.37 dated 08.04.1987 reads the cementing of the column was proven of poor quality, moreover in some sections there was no concrete at all. Later, in order to avoid further oil blowouts, the well's head was sealed with a twinned preventer.
ATTEMPTS
Upon the end of emergency operations, Well No. 37 was put to temporary abandonment as per the Oil Ministry's Order #149 dd. 28.03.1988.
In further, according to the Ministry's protocol dd. 04.07.1989 (EmbaMunayGas was represented by Z. Zhukatayev, Deputy General Director for Production), it was decided to completely abandon the well 'due to technical reasons,' and respectively to write off all expenses and discharge it from the books.
For this a dispute emerged between Oil Ministry and West Kazakhstan Division of State Technical Supervision (TekhNadzor), then headquartered in Atyrau and directed by Y.D. Biskaliyev, which protested against rushed abandonment. TekhNadzor proposed to carry out additional, hence costly and labor intensive activities to thoroughly eliminate technical threats as well as geologic and environmental risks posed by this well.
The attempt to conduct the proposed works brought no success. Well No.37 was temporarily abandoned and given to the books of TengizMunayGas Production Branch to be later forgotten and lost in shadows of secrecy – in April, 1993, an agreement to create a JV of TCO (later LLP) was signed, of which confidentiality doesn't make it possible to know on whose books is it at the moment – TCO or KMG.
CONDITION OF THE WELL
The troublesome technical condition of the well had earlier been mentioned in conclusions of GosTekhNadzor (27.11.1986), All Union Scientific Production Association of Bureniye and other SRIs. It was stated that inside Well 37, an intensive redistribution of remaining drilling mud and natural fluids (crude, formation water) under the cement plug at the depth of 1320-1439m was taking place increasing the formation pressure and creating extra hydraulic load on casing strings. This changes the structure of pipes and cement layer that surrounds them – as a result they crack and break what may lead to massive flow of fluids to above formations (inside and around a bore) and create huge risk of repeated inter-string influx. Besides, H2S corrosion of casing strings well contributes to the process. Total fracture of metal in the result of H2S effect lasts for 25-30 years (according to French and Russian scientists based on Aksarayskoe field experiment). 27 years passed since the beginning of the catastrophe at Well 37 at Tengiz!
SUMMARY
Transnational companies (TCO, Exxon Mobil, KMG, Lukarco) intensively developing the unique field of Tengiz, are of course more concerned about getting maximum profit rather than acknowledging the real threat from Well 37 that may appear again today.
To prevent similar disasters at Tengiz and other subsalt fields (like Kashagan) the following questions should find answers:
- What's the technical condition of Well 37 now?
- On whose economic balance is this emergency well, located in the center of Tengiz field?
- What measures should be taken today to finally resolve all technical and environmental problems related to Well 37?
Regardless on whose balance sheet is Well 37 (TCO or KMG), in the event of any negative emergences inside it, like fluid movement, discharges, etc, entire Tengiz may face serious accidents – Zhylyoi people will be affected – TCO land facilities will also suffer damage.
The situation needs prompt combined effort of state agencies, companies and public to find final solution for Tengiz 37, the bomb of 21st century.
By M. Khakimov
November 1 2012, 15:27