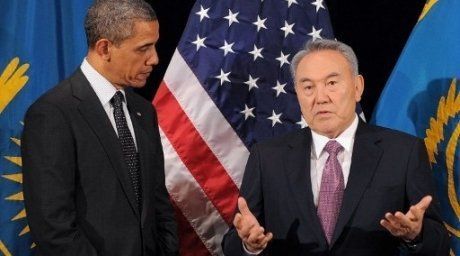 Barak Obama and Nursultan Nazarbayev. Photo:AFP©Nursultan Nazarbayev and Barack Obama discussed the situation in Ukraine, confirming their interest in peaceful solution of the issues of this country, azh.kz reports, citing the White House press service.
Vice President of the United States Joe Biden and heads of Spain and Cyprus also took part in the dialogue. During his conversation with Nursultan Nazarbayev Obama urged Kazakhstan to play an active role in seeking peaceful solution for the Ukraine's issues.
"The leaders confirmed their general interest in finding a peaceful resolution of dispute between Russia and Ukraine. They agreed that it is important to support the principles of sovereignty and territorial integrity", reads the message circulated by White House.
Also Obama had discussions about events in Ukraine with Prime Minister of Spain Mariano Rajoy. Vice President of the United States Joe Biden discussed regional issues, including the situation in Ukraine, with the head of Cyprus Nikos Anastasiadis. "Both leaders confirmed their firm support to the sovereignty and territorial integrity of Ukraine within its internationally recognized borders and discussed the possible steps which could lead to a de-escalation of the situation and its peaceful resolution", - reads the messafe.
Earlier Kazakhstan's President Nursultan Nazarbayev had a telephone discussion with Russian President Vladimir Putin and German Chancellor Angela Merkel concerning the situation in Ukraine. During the conversation with Putin Nazarbayev noted that "Kazakhstan as a strategic partner, understands the position of Russia that is trying to protect the rights of ethnic minorities in Ukraine, as well as its security interests". With that the President of Kazakhstan expressed hope that "all interested parties will show restraint and take measures for the fastest normalization of the situation by way of negotiations".
According to Nazarbayev, the crisis in Ukraine needs to be settled peacefully "on the basis of preservation of sovereignty and in accordance with the norms of international law". During his telephone conversation with German Chancellor, Nazarbayev confirmed that the Ukrainian crisis should be resolved by way of dialogue. According to him, it is necessary to use the mechanisms of international mediation "for ensuring territorial integrity of this country, and also refusal of mutual threats and ultimatums".
March 11 2014, 09:46