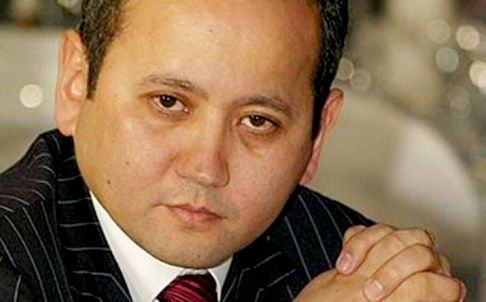 Mukhtar Ablyazov.A Hong Kong judge has agreed to a request by a Kazakh state-owned bank to freeze the assets and shares of two Hong Kong companies believed to be linked to an alleged Kazakh embezzler, Mukhtar Kabulovich Ablyazov, connected to a transnational, multibillion-dollar fraud case, scmp.com reports.
Since 2009, the Kazakh lender, JSC BTA Bank, has initiated 11 lawsuits against Ablyazov, a former Kazakh minister for energy, industry and trade, as well as his associates in England, seeking to recover more than US$5 billion. That sum includes US$4.25 billion in British court judgments which Ablyazov has not paid, Mr Justice Kevin Zervos said in his decision, dated February 17 and posted on the judiciary's website yesterday.
Ablyazov, who was chairman of the bank from 2005 to 2009, was alleged to have committed "widespread misappropriation of the bank's funds, involving billions of US dollars which he secured through a web of offshore companies controlled and managed on his behalf by nominees and associates", Zervos said. "There is a strong case against Ablyazov of misappropriating bank funds through widespread fraud and subterfuge."
Zervos granted JSC BTA Bank's request for a freezing order to prevent Ablyazov from dealing in the shares of two Hong Kong companies, Kazoil-Astana Group and Maxray Logistics, and the appointment of receivers to the two firms. "There is a strong case that Kazoil and Maxray are connected to or under the control of Ablyazov," Zervos said.
In 2008, Kazoil was involved in a legal dispute with a mainland firm, Xinjiang Yili Zhaoli Commerce and Trade, over two joint-venture companies, Beihai Hanali Petro-chemical Port and Beihai Hanali Petro-chemical Enterprise, in a petrochemical plant and port project in the coastal city of Beihai in Guangxi province, according to a legal opinion letter from the Shanghai Junhe law firm, which represented Kazoil.
Kazoil was believed to be secretly owned by Ablyazov and borrowed US$16 million from JSC BTA Bank, Zervos said.
Hong Kong corporate documents shows Kazoil borrowed millions of US dollars from JSC BTA Bank, using Kazoil's bank account with HSBC in Hong Kong. That included a US$12.88 million loan with Kazoil's 85 per cent stake in its joint venture, Beihai Hanali Petrochemical Port, pledged as collateral.
Maxray is wholly owned by a Hong Kong resident named Dominic Lau Tak-ming, according to Hong Kong corporate documents. The receivers believed Maxray might have "significant funds" in Hong Kong, Zervos said.
On February 16, 2012, a British judge, Nigel Teare, sentenced Ablyazov to 22 months in jail in absentia for contempt of court, due to apparent breaches of court orders and lies under oath in British courts. Ablyazov was arrested in France in July last year.
"There is no question of a real risk of dissipation [of assets]," Zervos said.
Ablyazov denied the fraud allegations and said they were an attempt by the president of Kazakhstan, Nursultan Nazarbayev, to eliminate him as a political opponent, Teare said in his judgment. Ablyazov was a co-founder of an opposition party, the Democratic Choice of Kazakhstan.
February 25 2014, 09:35