By Saule Tasboulatova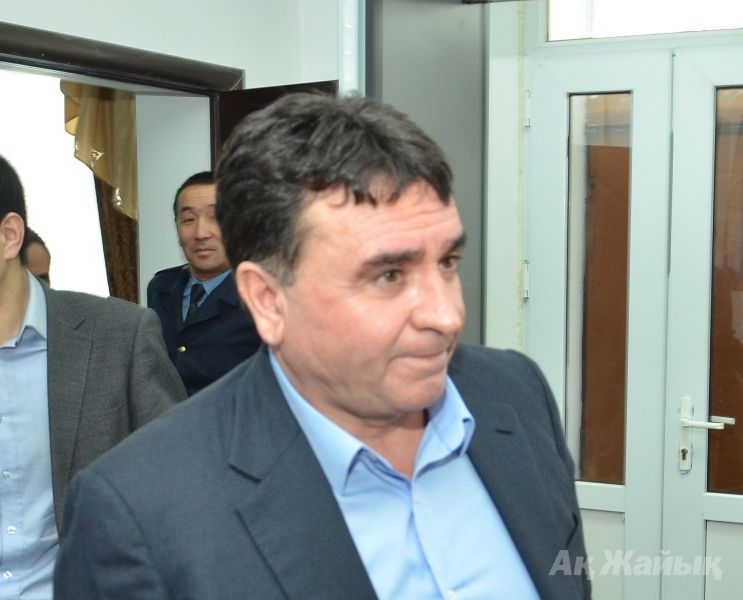 Nazmi Aliyev. Photo: Kanat EleuovOn Monday, Feb 10, in Atyrau specialized inter-district court on criminal cases the hearings of ex-governor Bergei Ryskaliyev's case continued. Nazmi Aliyev, AB Group LLP director's adviser was summoned to appear as a witness. Aliyev said that he was undergoing medical treatment and was compelled to arrive on court's warrant to appear.
I EVEN WROTE TO NUR OTAN PARTY
Aliyev, actually, repeated the evidences he had given to court during Moldashev's case in 2013 (see "Amanzhan Ryskali's video message"). According to Aliyev, he was invited to Atyrau in 2008 by Bergei Ryskaliyev, who awarded him a contract for the construction of 3bn tenge highway junction. Later, stated Aliyev, he learnt that the actual cost the junction was 4.5 bn tenge.
Aliyev denied the fact of receiving from Amanzhan Ryskali 900 thousand dollars. In court Aliyev confirmed that he filed a statement with financial police, requesting to hold Bergei Ryskaliyev, Amanzhan Ryskali and their son-in-law Rustem Albakasov criminally liable.
– They should be responsible for what they did, - said Aliyev. - There were not only nine apartments. They returned only a fraction of what they owed to hotel in Aktau, which was my and my bother's family business. There are also AB Group and OrsepStroy. I even wrote to Nur Otan party and the Supreme Court about their lawless actions.
Aliyev accuses Ryskaliyev brothers and their son-in-law Albakasov in illegal takeover of OrsepStroy LLP and AB Group, that belonged to Nazmi and his brother Yusuf Aliyev.
Also Aliyev claims that his company wasn't paid for planting trees, laying asphalt on bus depot's territory and gasification.
Aliyev said that in total in his civil suit there is an amount of 286 million tenge in damages.
RADIO PROMPTED
Seidakhmet Torekuzhayev, former director of London-Atyrau LLP, was also summoned as a witness, who revealed a secret of the company name.
According to him, during the time when he was establishing the company he heard over the radio about London-Almaty insurance company and offered a new name for the association. The company had office in Victory park. He was invited by Amanzhan Ryskali, who proposed to manage the legal department. Later they created a company "London-Atyrau". Altogether there were 6-7 lawyers working for the company.
MONEY GIVEN TO THE MOUSTACHED
Then the court started to clarify the circumstances of withdrawing large sums from the bank account of the defendant Askhat Esetov in one of Atyrau branches of the bank without deduction of commission charges (0,5%) in bank's favor.
Esetov claimed in court that the bank account was opened formally and he, according to Albakasov's instructions, withdrew money and brought them to him. Witness Aibar Kazhmuratov, who worked with Esetov, confirmed the fact of handing large packages of money to Albakasov.
- When in the office I saw an impressive package with money, I asked who that money was intended for. Esetov answered that he was going to give money to the 'moustached" one. That's how they called Albakasov among themselves.
February 11 2014, 15:35