By Zulfiya Bainekeeva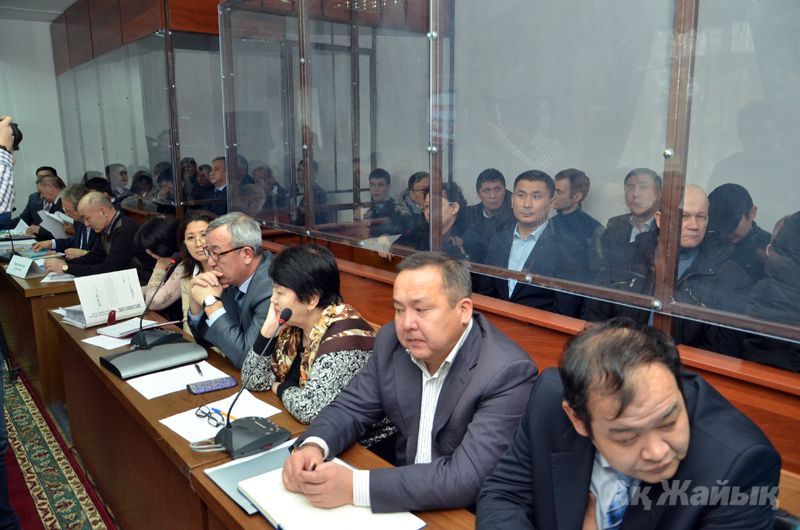 Yesterday, January 28, was the fourth day of court proceedings and the third day when two state accusers read in turns the indictment.
Its full text contains about 10 thousand pages, even excluding the preamble and testimonies, this part of court file can make about 10 volumes. It is envisaged that the reading of indictment may continue tomorrow.
The next step is questioning of witnesses. It is expected to have about 40 witnesses.
Prosecutors accuse Bergey Ryskaliyev of deliberately creating "a multi-level organized criminal group", practically from the first days of his appointment as the Governor of Atyrau Oblast.
State accuser Akylbek Karazhanov in his portion of indictment read that the date of establishment of organized criminal group was October, 2006: "Ryskaliyev in October, 2006 (the month Ryskaliyev was appointed the regional governor – Z.B.) had a criminal intention to create in Atyrau a criminal community consisting of representatives of organized criminal groups with the purpose of development of plans and conditions for deriving personal material profit and commissioning serious crimes. Bergey Ryskaliyev's son-in-law Rustem Albakasov and the inhabitant of Aktobe city Oleg Pavlichenko were the heads of organized criminal groups that complemented each other (…). Persons entering the criminal community, headed by Ryskaliyev, pursued a single criminal purpose to make profit by way of embezzlement of state budgetary funds during construction of important social facilities, such as gasification, electrification, water supply, construction of houses, bridges, sewer treatment and other facilities in the region".
Budget funds embezzlement scheme looked as follows: "Criminal community artificially created a competitive environment and awarded contracts to legal entities that were under their control. Then the clients, i.e. state agencies on the basis of illegally conducted purchases, signed contracts for construction of overestimated social facilities.
The criminal community, according to the materials of the investigation, included also a separate group headed by Bolat Daukenov that conducted illegal privatization of municipal property.
"Daukenov was appointed to a position of the first deputy governor of Atyrau Oblast. Into Daukenov's group, according to Ryskaliyev's plan, the chief of regional finance administration S. Dzhantemirov, deputy Governonr A. Abdirov and others were included. Daukenov's role was to coordinate the activity of the criminal community that was entrusted to him. Dzhantemirov's role was to prepare privatization documents for certain state properties and find ways for depreciation of their costs", - said the prosecutor.
Investigators announced even the exact date of dissolving of the organized criminal group - August 15, 2012. To recall, the former Governor Bergey Ryskaliyev was relieved of his duties by the President Nazarbayev on August 16, 2012. The wording of his dismissal was "for health reasons".
Last summer the official representative of the State Agency for combating economic and corruption crimes of Kazakhstan Murat Zhumanbai publicly voiced at the briefing that Ryskaliyev's organized criminal group caused the biggest damage to the people of Kazakhstan and the country. The damage caused by the activity of Ryskaliyev's organized criminal group amounted to over 71 billion tenge. In the course of investigation 23 billion tenge were returned back to state and custody was imposed on another 39 billion tenge. At that time the financial police reported that they arrested three bank accounts in Switzerland that belonged to Ryskaliyev brothers and their close relatives. The arrested amount exceeded 100 million euros.
January 29 2014, 11:46