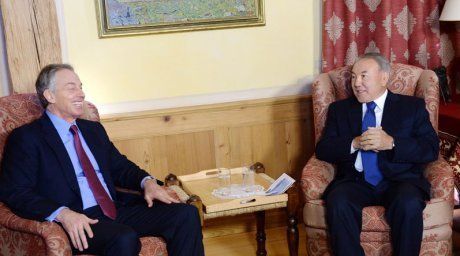 Kazakhstan President Nursultan Nazarbayev and ex-Prime-Minister of Great Britain Tony Blair. @Akorda.kz Kazakhstan President Nursultan Nazarbayev and ex-Prime-Minister of the United Kingdom Tony Blair have met in Swiss Davos discussed the Kazakhstan 2050 Strategy, tengrinews reports citing the official presidential website.

They discussed the ongoing international developments and touched on the key aspects of the Kazakhstan 2050 Strategy to find most efficient approaches to implementation of the program.

According to Nursultan Nazarbayev, Kazakhstan's plan to become one of the 30 most developed countries of the world - the Strategy's core goal - requires full concentration of efforts and resources. In this context consultations might play an important role.

Nursultan Nazarbayev arrived in Switzerland to take part in the annual World Economic Forum a few days ago. He is also planning to have a number of bilateral meetings during the visit.

The World Economic Forum (WEF) is a Swiss non-profit foundation, based in Cologny, Geneva. The Forum is best known for its annual meeting in Davos.

The meeting brings together some 2,500 top business leaders, international political leaders, selected intellectuals and journalists to discuss the most pressing issues facing the world, including health and the environment. The WEF is held for the 44th time this year.


January 27 2014, 08:59