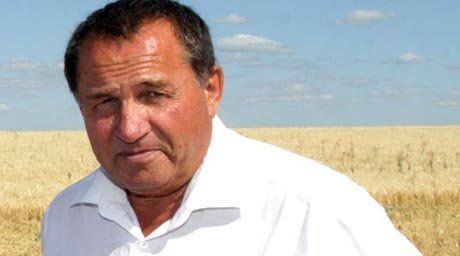 Vitaly Karkula. Photo:©http://mgorod.kzLast night three unknown persons boldly attacked the house of the farmer Vitaly Karkula - a well known businessman in Zelenovsky district of West Kazakhstan Oblast and shot him dead during the night assault. His spouse Valentina Karkula, the deputy of the regional maslikhat (local government) was badly injured and now is in intensive care unit, azh.kz reports citing "Moi Gorod" Internet portal.
The Ministry of Internal Affairs of Kazakhstan sent a special task force (STF) to West Kazakhstan Oblast (WKO) for investigation of the assault.
Makhambet Abisalatov, the chief of WKO internal affairs department, informed that the criminal case has been initiated on this case as per Article 96, part 2 of Criminal Code of RoK "Robbery-related homicide".
According to Abisalatov, Valentina Karkula managed to report to crime scene investigation team that three unknown persons in masks broke into the house and also reported some details that were important for investigation.
The police officers found out that the house was attacked by three persons and the fourth accomplice waited in the car at the outskirts of the village near "Tulpar" car repair shop.
Currently the task force is inspecting the incident scene.
The police learnt that the businessman's family never kept cash in their house, but on January 15 they were planning to leave for holidays to the United Arab Emirates via Samara. According to the relatives of the victims, they were supposed to have 500 000 Russian roubles in their house.
"The head of the criminal police department reported that they found half a million Russian roubles on the window-sill and inside the pockets during the incident scene inspection.
We are trying to find out what was taken by the criminals. They didn't take neither money nor any office equipment, cell phones or iPhones. Probably, their purpose was to take big money",- considers the chief of police.
"Valentina Karkula's ward is guarded. And we also would like to address all citizens: if you have any information about this crime, please report to police and you get a good remuneration. We also guarantee anonymity", - he added.
January 13 2014, 16:09