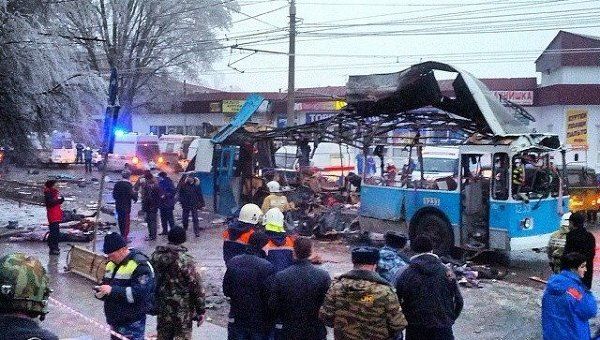 An explosion went off on a trolleybus in Russia's southern city of VolgogradA fatal bomb explosion ripped apart a trolleybus in Russia's southern city of Volgograd on Monday morning, in what the authorities say is the second terrorist attack in the city in the last two days, ria.ru reports.
The blast on the trolleybus, packed with morning commuters, at about 8:10 a.m. (04:10 GMT) killed 10 people and injured 15, the Investigative Committee said.
A one-year-old child is among the injured, a law enforcement source told RIA Novosti.
Video footage of the scene, near a market in the Dzerzhinsky region of the city, shown on the Rossiya-24 television channel, showed debris strewn across the street around the blackened shell off the trolleybus, its roof blown outward by the explosion. State television also said the force of the blast blew out the windows of the nearby houses.
The blast was most likely caused by an explosive device left in the vehicle's passenger cabin, Russia's National Anti-Terrorism Committee said.
President Vladimir Putin has been informed of the new explosion by Federal Security Service (FSB) head Alexander Bortnikov, Kremlin spokesman Dmitry Peskov said.
Russia's Investigative Committee Spokesman Vladimir Markin said the trolleybus explosion was a terrorist attack, making it the second such incident in Volgograd in less than 24 hours.
A bomb explosion at a railway station in Volgograd on Sunday afternoon killed 17 people and injured over 40 others, in an attack the authorities said was carried out by a suicide bomber. The death toll rose to 17 from 16 overnight after another victim died from his injuries in the hospital.
The remains of the suspected bomber were discovered at the scene of the blast and will under go DNA testing for identification.
Thirty-five of the people injured in Sunday's attack remain in the hospital, the regional Health Ministry said, some of them in serious condition.
December 30 2013, 12:24