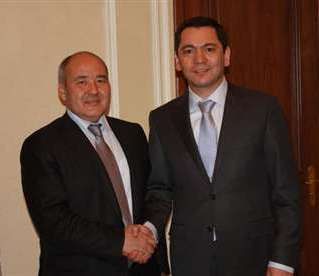 Kyrgyz premier Omurbek Babanov met again with Samruk-Kazyna head Umirzak ShukeyevKazakhstan is going to construct two schools in Kyrgyzstan, Kyrgyz media source 24.kg informed.
It was noted that today Deputies of the Majlis of the Kazakh Parliament approved a draft law "On ratification of agreement between Kazakh and Kyrgyz Governments". The agreement was aimed at the construction of a school for 900 students in Osh province. Protocol amended the agreement – the number was increased up to two schools.
The Kyrgyz party allocates land plots in Bishkek of 2.49 hectares and in Osh – of 2.5 ha. The Kyrgyz party will also select a general contractor on construction of objects and will provide for development and legalizing of construction documents.
Schools will be constructed at the expense of Kazakh party. The Samruk-Kazyna Fund of National Welfare JSC allocates 1.28 billion KZT for the purpose.
December 18 2013, 18:24