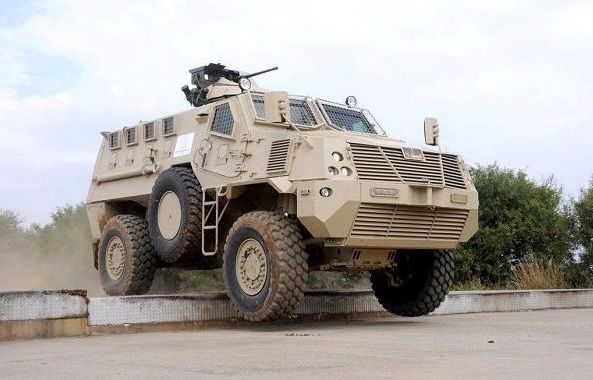 A new plant, producing specialized vehicles for military and civil purposes will be built in the capital. Yesterday the capsule was laid in the foundation of the future plant with participation of Defence Minister Adilbek Dzhaksybekov and mayor of the capital Imangali Tasmagambetov.
FROM ARMORED VEHICLES TO CIVIL BUSES
Opening the ceremony, the Defense Minister stressed the importance of creating own production of armored vehicles as part of the instructions of the President — Supreme Commander of the Armed Forces Nursultan Nazarbayev designated in the Strategy Kazakhstan- 2020.
In accordance with this document, by 2020 the state defense order should be provided by domestic production at 80 %. The new technological facility with capacity of 120 — 360 special vehicles a year is scheduled for the launch in 2015 in the industrial park Astana-Zhana Kala.
Modern robotic equipment will provide a full cycle of such works as cutting and welding of armor plates, painting and assembling, and will also provide quality control. By the way, the project envisages production of not only military equipment, but also civil buses.
The project's participants are JSC National Company Kazakhstan Engineering, Paramount Group (South Africa) and LLP Kazakhstan Engineering Distribution, which signed in November this year, a tripartite memorandum on production of combat wheeled vehicles and their maintenance in Kazakhstan.
It should be noted that the project for the first time implemented in Central Asia, will create a highly profitable joint venture, able to provide a qualitative leap in the defense and engineering industry. It is planned to achieve a 50 percent level of localization, assembling the vehicles with units and equipment manufactured on the territory of Kazakhstan and the countries of the Customs Union. The project also involves creation of more than 150 jobs, transfer of technologies and know-how, training in Kazakhstan and abroad of more than 50 engineers and specialists of technical and technological profile.
An engineering department and service center at the plant will allow further modernization and maintenance of machines according to customers' requirements.
All products manufactured at the plant will meet international standards that will ensure their selling both in domestic and foreign markets. The armored wheeled vehicles offered for production in Kazakhstan are recognized one of the best in their classes on a number of indicators; they have successfully passed demonstration tests in May and June of this year in various ranges of the Kazakh Armed military units.
As Miles Chambers, business development director of the Paramount Group noted, their company is interested in participation in this large-scale project, which includes not only production of vehicles, but also research and development activities.
December 12 2013, 17:37