By Zeena Urynbassarova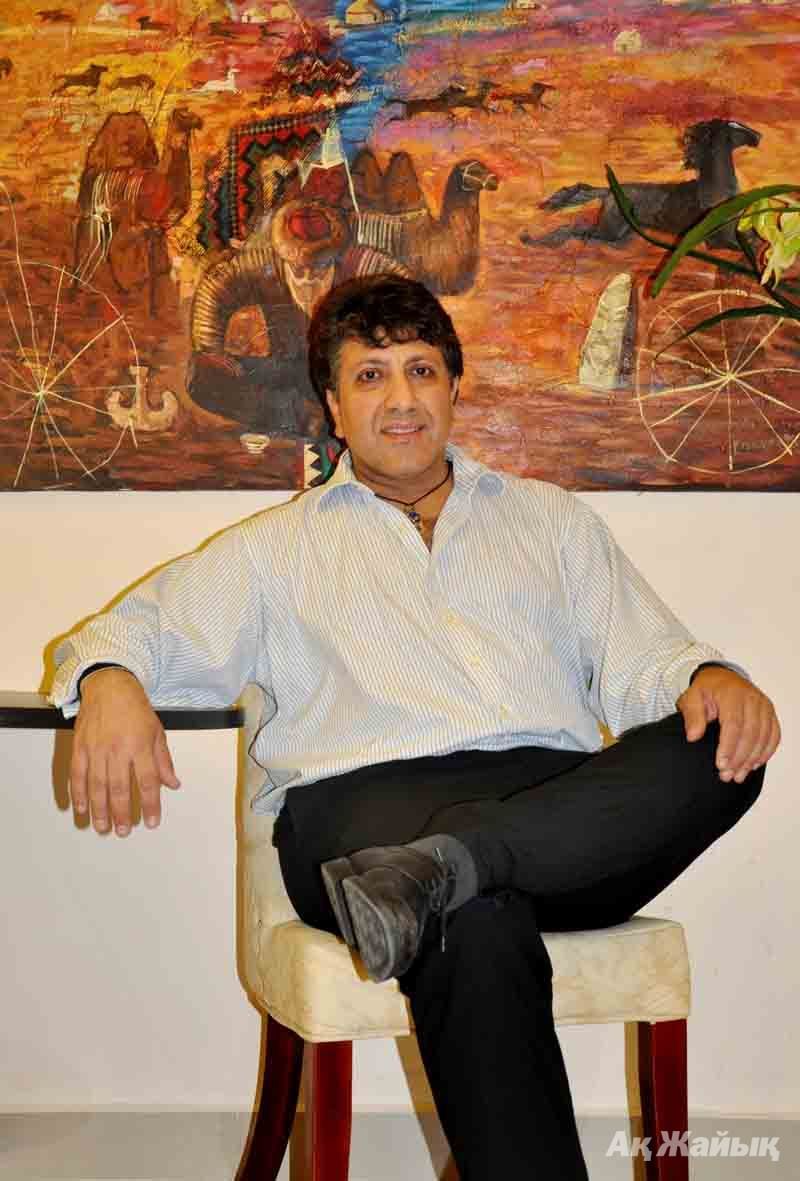 Toni TuriWhen I heard a soulful, heartfelt singing of a well-known Italian melody on the radio, I was pleasantly surprised that the singer was not a professional star, but an engineer who was currently living and working in Atyrau. The song was "Just Say I Love Her …" - a legendary Neapolitan song I often heard in my childhood. At the end of the song the radio announcer said the singer was Toni Turi, an engineer from Agip KCO.
We agreed that I come to his rehearsal. I came a bit earlier and when entered the hall I saw a middle-aged Italian man standing alone on the stage singing with closed eyes. I sat down quietly on a chair and listened. He was singing with so much enthusiasm that he didn't notice my presence.
After a vigorous aria … "Funiculì, Funicula" there followed a melodious "Only you" … continued with a rock-n-roll megahit "Rock Around the Clock" …
- Tony, I heard on the radio you singing the oldie "Just tell I love her". Why did you chose this song?
- I used to sing now and again before I came to Atyrau, but never dreamed that I would take it so serious. Everybody likes singing here and it impressed me so much. After all, I grew up in a culture where everybody sings. So, I decided to take vocal classes and Koumys Zhamekenova from Music Department of Atyrau University became my first vocal trainer. Once she showed me the music scores of the Neapolitan song and said it was very popular during the Soviet times. When I heard this song, it touched me to the bottom of my heart and I wanted to sing and sing seriously. I spent many hours rehearsing it and then went to Almaty to record it at Son Pascal's studio. Then I proposed to Radio Tandem to air it on their station.
Tony says he never heard the song before, though it was created in Naples, a city where Tony lived for many years. "It was sung by a generation that lived before me and to hear this song nowadays would be a rare occasion," says Tony.
This passionate song was written in 1930 by Rodolfo Falvo and Enzo Fusko to become their most known masterpiece and one of the most beautiful songs in the world.
- Are there any similarities between Kazakh and Neapolitan songs?
- Our musical cultures have a lot in common: not just songs and the manner of singing, but also in musical instruments. Dombra and mandolina are not only similar in their shapes, but they sound similar. Look at kobyz and violin. It is almost one and the same instrument! I like to sing Abay's "Kozimnin каrаsy (You are a pupil of my eyes) and Altynbek Korazbaev's "Sagindym Almatymdy"( I miss my Almaty). They sound very similar to Neapolitan songs. Once in Almaty I was at the concert where they danced Italian tarantella to a Kazakh music.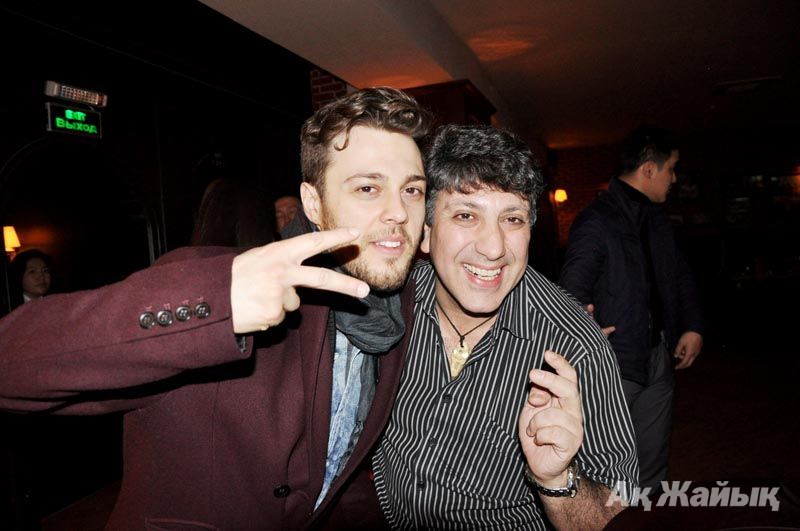 With Son PascalBy the way, Son Pascal who was born in Naples, was the first to notice this similarity.
He says musical patterns of our songs are virtually identical.
MIXTURE OF STYLES
Tony sings literally any genre of songs, mixing classical akadem with pop repertoire and even folk songs.
- I respect all types of music and don't divide music to high and low types. I sing opera, as well as pop music and folk songs, says he.
- Can you play any musical instruments?
- No, and I don't have a musical education, but that doesn't stop me from singing my favourite songs.
THE BAND OF HIS DREAM
After some time I went to the place where Toni used to rehearse and saw a full band of musicians on the stage - guitar players, a drummer, a keyboard player and two more singers. It was the band that Toni has put together. Tony said he couldn't find sponsors and, therefore, bought all these instruments with his own money. He looked for musicians in Atyrau and now the band consists of people that share the same passion for music.
Aida Dnisheva and Koundyz Serikkali, new singers in the band, have very beautiful voices and like Toni dream of a big stage.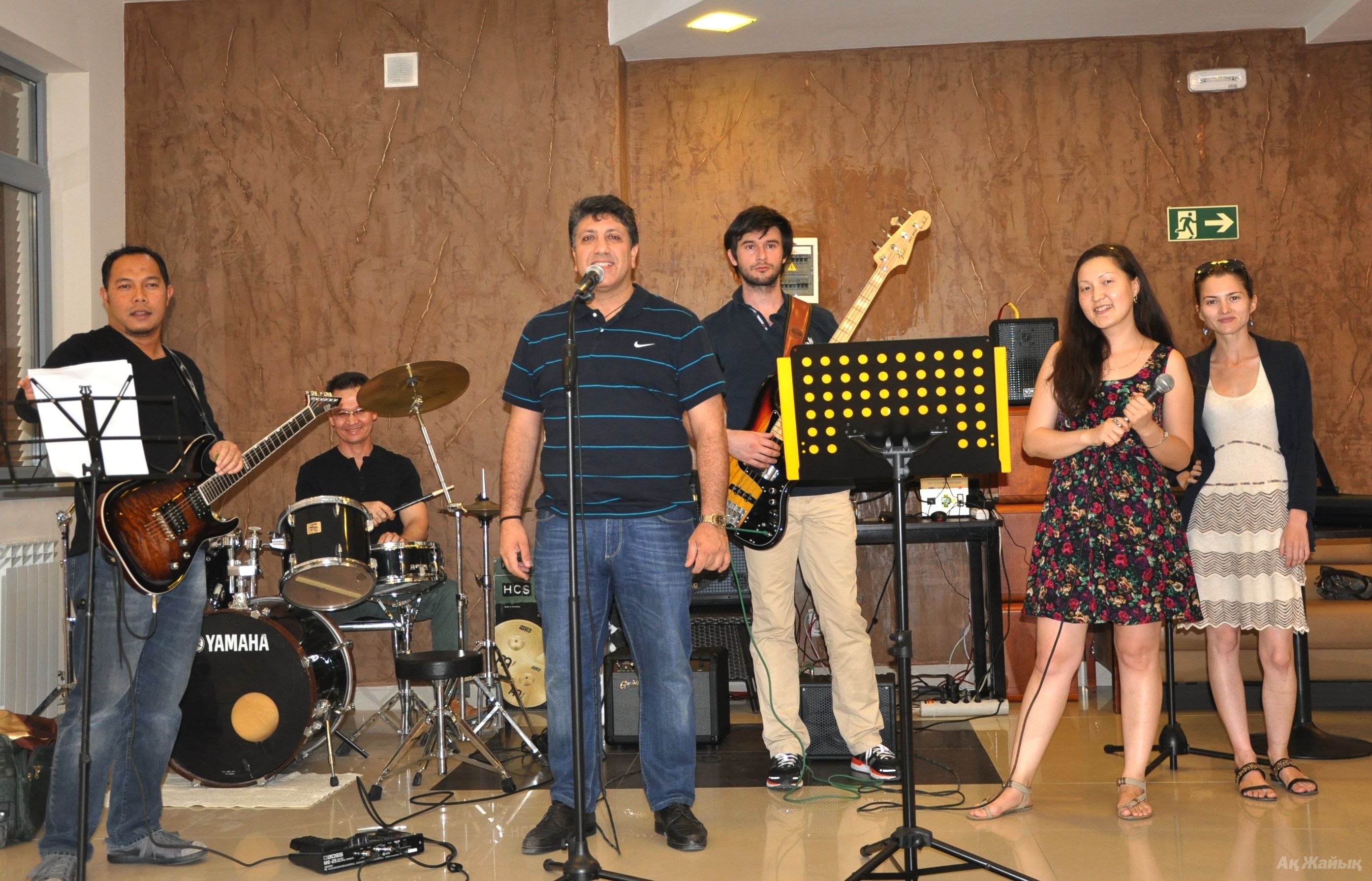 First public performance, July 13, 2013The band members are: Arkady Agapov- bass guitarist, Kuat Kulmagambetov - percussions, Roufiya Mannanova- keyboard player, Daniyar Shdenov - solo guitarist and Hatta bin Azhar - rhythm guitarist.
By the way, their first public performance took place on July 13 in one of the city's restaurants.
- What songs are in the repertoire of your band?
- We sing classical Neapolitan songs and other types of Latin music: Italian, French, Spanish and Brazilian songs. Aida and I, we sing a few well-known duets, such as Felicita, Mother Maria and "Ti lascero" by Fausto Leali.
- What are your plans and when is the next concert?
- I want our band to become famous. Only people who have passion can achieve certain results. In one year's time we plan to start singing our own songs. Now the majority of our musicians are on holidays and, therefore, we are planning our next concert for the August when the band members are back. We will play at Cactus restaurant.
I also plan to record a new song. The Italian musician and composer Augusto Amigucci, who currently lives in Almaty, wrote music to my text. The song is called "Amo te" (I love you). It contains the Kazakh text too.
Toni says that by character he is a sentimental romantic. And I noticed that, because he doesn't hide his tears when he sings his favourite songs.
- You found hobby for your soul. Do you consider yourself happy?
- Singing is not my trade, it is my passion and it comes from my soul. It helps me to feel happy. That's the power of music!
YOU NEVER TOO OLD TO START SINGING
Koumys Zhamekenova, vocal trainer who gave him the first vocal classes says:
- Once I was approached by a middle-aged Italian who asked me to teach him to sing correctly. He diligently attended all classes during 6 months and made a big progress. Toni has a very strong voice. While a voice can be adjusted, the strength of the voice is normally given by nature. We removed all unnecessary vibrations and his voice became purer. There is an opinion that you should learn singing at an early age. It is a myth. Our vocal chords get maturity after the age of 20 and 30 and, therefore, your voice can show all its power and beauty only at mature age and Toni is a good example of this. If you want you can start to sing even after 60.
His love for singing made him lose desire to drink and smoke. Toni says alcohol and tobacco destroy vocal chords - a gentle human organ. He rinses his throat every evening with a herbal solution called "erisimo" ("grass of the singer") which is used by Italian tenors.
"You cannot imagine how throat opens up in the morning after this procedure and the voice sounds easily," shares his small secrets Toni.
Mario Lanza, a great Italian tenor, once said he sings with his heels and once he takes high notes, he sings also with his knees. When singing, Toni Turi sings with all his body and, thus, reminds me that sounding biotool, vibrating from feet to head, which meant the great tenor. I hope such a devotion and love for singing will conquer hearts of our listeners. Force, Toni!
July 25 2013, 07:55