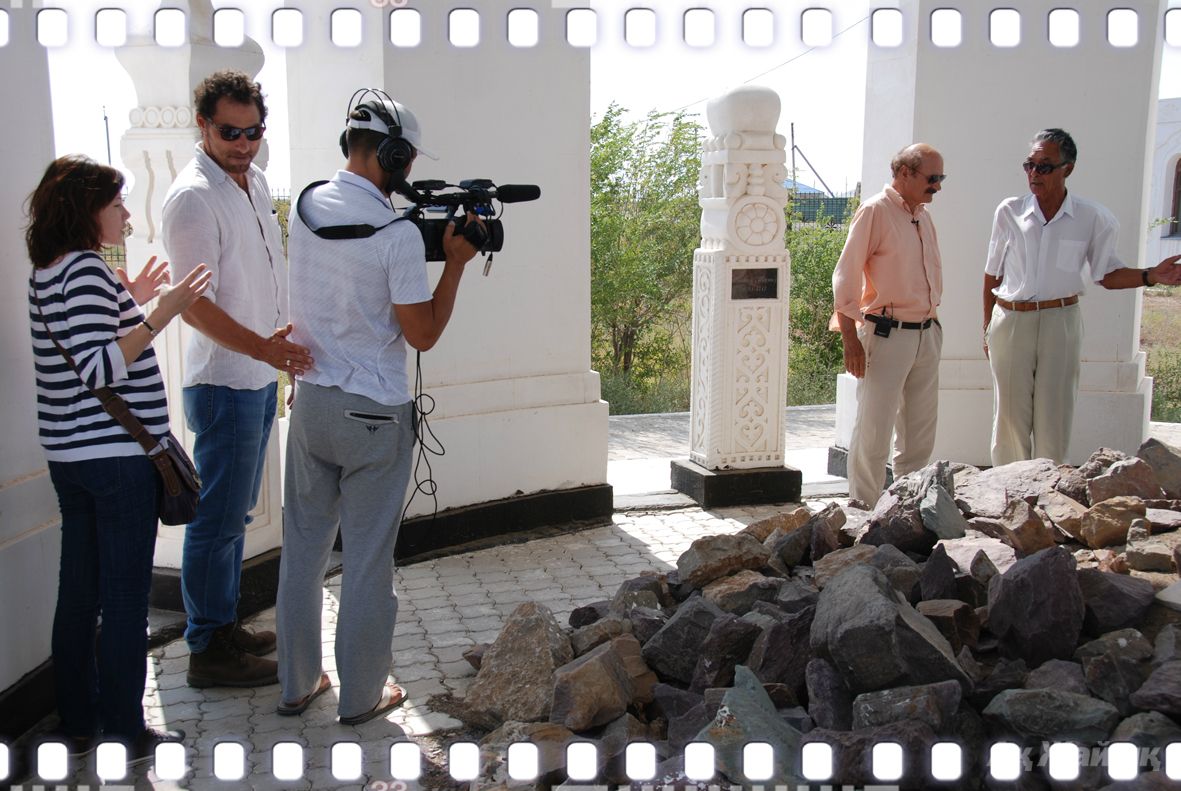 The fascination with Kazakh culture and the unique wildlife of the Ak Zhaik River delta brought an Italian television team to Atyrau oblast last week.
The fruits of their work will be broadcasted on the Italian state television channel RAI 1 on August 22 as part of the series looking at historically and environmentally significant regions from countries around the globe.
During their visit to Atyrau oblast the team of reporter Federico FAZZUOLI and director Luca FAZZUOLI visited a range of sites including Ak Zhaik Wildlife Reserve at the delta of the river near the Damba village, the Museum and a pottery workshop in the village of Saraishyk.
Federico Fazzuoli, a RAI 1 Channel presenter and a writer, joined RAI 1 as a screenwriter in 1978, signing important works such as Treason, created together with Walter Licastro, a survey of Cesare Battisti "The invasion of Czechoslovakia."
- I am working on the documentary about the nature and the cultural heritage of Kazakhstan for the Italian television series. It is called "The Heritage" and dedicated to the protection and preservation of the nature and cultural heritage of mankind. We will include into the programme the story about the well-known and thoroughly studied monument of the ancient history and art in Kazakhstan – the TAMGALY sanctuary. The archaeological site of Tamgaly is known for its ancient rock carvings (petroglyphs) and burials where the valuable armors belonging to the mythical Amazons have been found. The site is under the UNESCO patrimony, Fazzuoli said.
The documentary will also depict the nature parks and sanctuaries of Sary-Arka in Central Kazakhstan, as well as unique ecosystem of Western Kazakhstan located around the delta of the Ak Zhaik river.
RAI 1 is the primary television station of RAI, the national public service broadcaster, and the most watched television channel in Italy. It is mainly known to Kazakh audience owing to its participation in making of La Piovra (The Octopus) TV series about the mafia starring Michele Placido as Comissar Corrado Cattani, that was wildly successful in the USSR when it appeared on state TV in 1986 offering to the Soviet viewers thrills and dark drama from beyond the Iron Curtain.
Today RAI has a relatively high audience share of 42.3% in the Apeninnes and is also broadcasted to Albania, Switzerland, Monaco, Malta, San Marino, Vatican City, Montenegro, Slovenia and Croatia due to their close proximity.
By Zeena URYNBASSAROVA
August 16 2012, 19:14