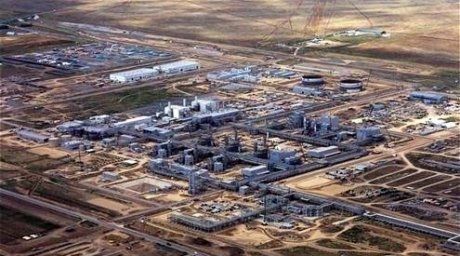 Karachaganak oil and gas field. Photo courtesy of topneftegaz.ru The international consortium of companies developing the giant Karachaganak oilfield has decided not to start the 3rd phase of the project development, Newskaz.ru reports, citing KazMunayGas National Oil Company's Chairman of the Board Lyazzat Kiinov as saying April 29.

"Recently there has been a joint decision taken [of the consortium, the Oil and Gas Ministry and the Government's Board for Oil and Gas] not to start the 3rd stage of the project development so far. The currently produced 8 billion cubic meters of gas will keep being supplied for processing, with the rest of the gas to be reinjected", Mr. Kiinov said.

"This technology enables to extract another 100 million tons of crude for the whole period of the project (…) it is quite a sizeable figure (…) that is why the decision is sound", he stressed.

According to him, the current production output of liquid hydrocarbons at Karachaganak stands at 10-12 million tons. "7-8 billion cubic meters of gas is supplied to the Orenburg-based gas processing facility; the processed gas is brought back to Kazakhstan to feed northern regions of the country. We have an agreement with Russia's Gazprom to bring back the entire volume of the processed gas to Kazakhstan", Mr. Kiinov said.

Late June 2012 Kazakhstan purchased a 10% share in the KPO consortium.

Karachaganak Petroleum Operating B.V. (KPO) is developing one of the world's biggest oil and gas condensate field Karachaganak located in north-west Kazakhstan. The field's area is 280 square kilometers, its reserves are evaluated at over 1.2 billion tons of oil and condensate and over 1.35 trillion cubic meters of gas.

KPO is a joint company of BG Group (29.25 percent), Eni (29.25 percent), Chevron (18 percent), Lukiol (13.5 percent) and KazMunayGas (10 percent).
According to the PSA, the consortium shall be running the project until 2038.
April 29 2013, 15:21