By Laura Suleimenova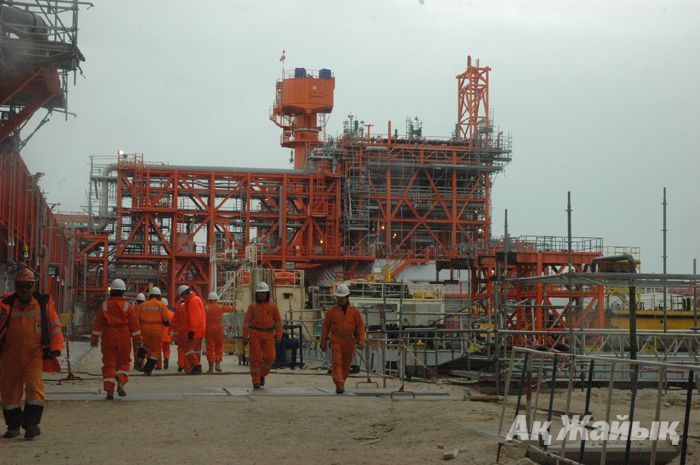 Another labor conflict came to pass on D Island of the North Caspian Project. This time, employees from the United Kingdom protested against dismissal of their two fellow citizens.
Late March, Agip KCO, an Italian company responsible for experimental development of the giant oilfield of Kashagan, sacked two British specialists, allegedly for poor performance.
April 14, eighty nine Agip employees refused to turn up to work in sign of solidarity with their colleagues, for what were sent to Atyrau by helicopters.
NCOC external communications manager Hans Wenk confirmed the incident took place, but his assurance was the conflict is now over:
"After meeting with their recruitment agencies in Atyrau, most of them asked Agip a permission to return to their workplace, which was satisfied. On April 17 they returned to D island."
So, not all of them went back to work. Still unclear, what was the specific reason to sack the two Brits and whether the protest ended up with their comeback. The questions were deliberately ignored.
Interesting, in light of first-oil talks and forthcoming personnel reduction, Agip still hires more people, given from public employment agencies they request permit for managerial positions only – both for onshore and offshore facilities – industry group managers, project managers, engineering infrastructure, drilling engineers, commissioning specialists and many others.
Does it mean there is still a great volume of works at the project? Many talk of defects and unfinished jobs at both facilities, diligently kept under a hat by top management.
A new joke says "for the historical transfer of the first Kashagan oil to the Bolashak plant, they will bring in a railway tank car with … oil from Tengiz."
When it comes to the incident cause, complicated relations between Brits and the Italian management at Kashagan are a long known story.
Apparently, the British hardly tolerate excessive emotionality, arrogance and incorrect, in their opinion, behavior of Italians at work.
Moreover, very often Italians lack qualification indeed.
Not once, we wrote about similar cases when some foreigners, far from oil and gas sphere – a fitness instructor from Italy, for example - were promoted up to department manager positions.
The fact that completion of the Kashagan project has been hampered by managerial mistakes was numerously raised.
Inability to find a common language with agents and operating companies, oil ministry, Kazmunaygas and even the regional administration cost Hans Bakker, the former NCPOC managing director, his position.
Sources say, the reason is that he, instead of coordinating the work, went at strategic planning and setting relations with the above organizations, spending a good half of his time on labor discipline and safety at workplace.
In his farewell letter, he wrote he was being recalled from Kazakhstan due to completion of his 5-year stay in the country, as part of Shell's overseas secondment policy.
Our previous publication dated December 27, 2012, depicting circumstances of Mr Bakker's hurried transfer from Gabon to Kazakhstan in due time, caused his negative response. The article was even banned from circulation in the corporate network.
As a new managing director of NCPOC was appointed Arjan van Dijk, who has worked for 25 years with Shell, mainly in crude processing. Now he has to establish good relations with everyone involved in the Kashagan project.
April 23 2013, 16:36