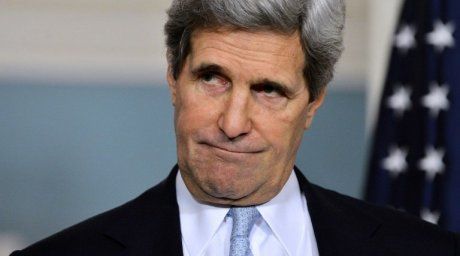 US Secretary of State John KerryJohn Kerry lays out his world vision and defends foreign spending ahead of his first tour as secretary of state, Global Post reports. During his speech when Mr. Kerry opened a new country "Kyrzakhstan", he noted an importance of development of intenational diplomatic relations for enhancing the positions of the Amrical business in the world.
The new secretary of state is losing no time in setting out his foreign policy agenda, first in a major speech at the University of Virginia, then with a two-week "listening tour" to cement ties with allies and explore solutions to some of the thorniest foreign policy problems facing the United States.
Kerry devoted the bulk of his 50-minute speech to explaining why foreign policy made good economic sense in today's increasingly competitive world. No country can exist in a vacuum, and without access to world markets the US cannot grow and prosper, he emphasized.
Kerry was full of enthusiasm for his colleagues, but the top diplomat may need a little geography brush-up before he sets out to some of the more obscure outposts in his domain.
"The brave employees of State and … work in some of the most dangerous places on earth," he said. "They fight corruption in Nigeria. They support the rule of law in Burma. They support democratic transitions in 'Kyrzakhstan' and Georgia, mindful from our own experience that it takes a long time to get democracy right, and that it rarely happens right away."
Er, "Kyrzakhstan"?
The transcript prepared by the State Department says "Kyrgyzstan," a small, largely agricultural country in Central Asia with Bishkek as its capital. But the country described by Kerry sounded a lot more like Kyrgyzstan's much richer and larger northern neighbor, Kazakhstan, immortalized in the film "Borat."
But small quibbles aside, Kerry sought to make a strong case for a renewed emphasis on foreign policy.
"Let me be very clear: Foreign assistance is not a giveaway. It is not charity. It is an investment in a strong America and free world."
Unlike "Kyrzakstan", John Kerry's view of Kazakhstan is a positive one. On February 20 in his telephone conversation with Foreign Affairs Minister of Kazakhstan Erlan Idrissov Mr. Kerry has expressed his gratitude that the republic shows willingness to accept in Almaty the next round of the international negotiations on the Iranian nuclear program, which will start on February 26.
WKT citing Global Post
February 22 2013, 12:32