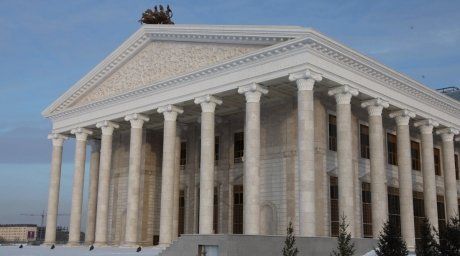 The world premiere of Kazakhstan's Astana Opera theater will be held in the end of October, the theater's art director William Graziosi told Tengrinews.kz.

"The Kazakhstan premiere will be held in June, it will be timed to 10th anniversary of Mukan Tulebayev (famous Kazakhstan composer). On the first night we will stage Birzhan-Sara opera that will be followed by the Sleeping Beauty ballet. These performances will be staged by director and art director of the Mariinskt Theater Valeriy Gergiyev. The world premiere is scheduled for October 20-12. It will be attended by celebrities from leading theaters of the world," William Graziosi said.

According to Graziosi, Astana theater has already got several agreements with world-famous theaters, such as Teatro alla Scala, Opéra Garnier, the Vienna State Opera and many others. A lot of work is being done, the performances and the repertoire are being discussed. The schedule of the tours of Kazakhstan artists abroad and foreign artists to Kazakhstan has already been made for the year ahead.

"Our theater will not be absolutely classical, as we are already leaving the classics that we are used to, when the opera singer was standing frozen on the stage. Right now opera singer is not only the person who sings, but the artist as well, so that all emotions and moods are fully passed on to the audience," he said.

The Art Director noted that design of the theater involved experts from around the world and all the interior finishing is made manually: murals, 3D-wall paintings, framings and other decorations. The interior decoration shows not only traditional opera theater styles, but also the national Kazakh motives. According to Graziosi, every detail is unique in the theater, as the materials were made on individual orders and brought from Italy.

"As for decorations in the main hall, they are made of the best quality and most expensive types of wood. We will also have a unique acoustic shell, and not just one. Even the most picky celebrities will not complain about our sound. The chairs in the main hall are made on a special order in Milan. The quadriga in the theater's roof is made in a form of Saki queen Tomiris," William Graziosi added.
February 21 2013, 10:44