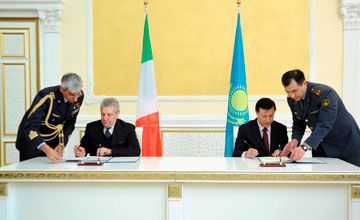 Kazakh Minister of Defense Adilbek Dzhaksybekov and the Italian Defense Ministry Admiral Giampaolo Di Paola signed an agreement on military equipment and personnel today in Astana Kazinform reports. This is the first official visit of the Italian Minister of Defense to the Republic of Kazakhstan.
The intergovernmental agreement provides for the transit of the Italian Armed Forces' military personnel and equipment via Kazakhstan to Afghanistan by rail and by air.
Heads of Defense Ministries of Kazakhstan and Italy exchanged their views on security in Central Asia and the current and future development of the situation in Afghanistan.
Kazakhstanhas already concluded similar agreements with the other members of the ISAF mission - the United States, France, Germany, Spain, Britain, and France, and with the North Atlantic Alliance, as with the international organization.
WKT
February 19 2013, 15:52