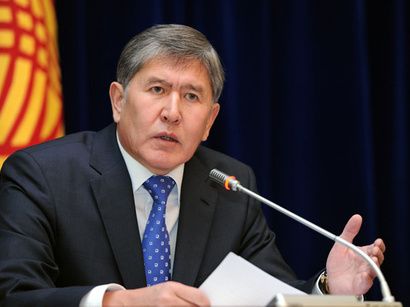 The president of Kyrgyzstan Almazbek Atambaev assigned the Minister of Internal Affairs Shamil Atakhanov to take due measures and prevent blocking of traffic from now on in the streets and roads in the country, reported trend.az, citing the head of state press service.
"Both direct violators of the law and the Department of Internal Affairs of Bishkek city that allowed blocking of traffic in the streets should be taken to task," – reads the president's instruction to the Minister of Internal Affairs.
The head of state noted that any meeting is permitted to a degree as long as it doesn't create obstacles for the customary life of its citizens.
"The city infrastructure is congested and any blocking of traffic is not acceptable. There should be no exceptions for anybody," – said Atambayev.
To recall, the president signed the law "On additions to the Code of the Kirghiz Republic about administrative responsibility" which is aimed at strengthening of protection of the rights of citizens for the freedom of movement. From now on illegal traffic blocking or any other actions related to restriction of the rights and freedoms of citizens for free movement entails imposing of the administrative responsibility.
WKT
February 19 2013, 12:16