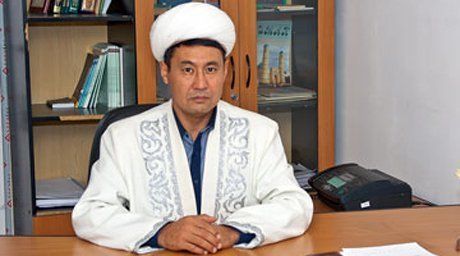 Yerzhan Mayamerov, the new Supreme Mufti of KazakhstanAt an unsheduled meeting of Kazakhstan's Spiritual Directorate, which is the 7th gathering of Kazakh Muslims, a new Supreme Mufti of Kazakhstan was elected, after the previous head of country's Muslims Sheikh Absattar Haji Derbissali filed resignation.
Sheikh Absattar has been the Supreme Mufti for 13 years, since 2000.

Within the event, through a general suffrage was elected the new Mufti of the Republic of Kazakhstan Yerzhan Mayamerov, Malgazhayevich.

Hazrat Yerzhan Mayamerov was born on December 16, 1972.
After army service in 1993, the future Mufti entered Al-Azhar, the Islamic University of Cairo in Egypt to study Sharia Law, which he completed in 2006.
In 2006-2008 he had an internship in the department of acceptance of the fatwas from the muftiyyat of Egypt.
In 2011, upon the ruling of then Supreme Mufti of Kazakhstan Sheik Absattar Haji Derbissali, Yerzhan Mayamerov was assigned the imam of Semipalatinsk Oblast, East Kazakhstan.
Married. Three children.
As a whole, over 170 people, including regional imams, members of Spiritual Directorate, the state agency for religious matters, representatives of Kazakhstan's scientific intelligentsia attended the gathering along with guests.

The proposed nomination for the post of the Supreme Mufti was supported unanimously.

Kairat Joldybai and Serik Oraz were appointed naib-mufties [deputies].
Ex-Mufti Sheikh Absattar Haji Derbissali said he will pursue scientific and educational activities in his further career.




February 19 2013, 10:47