RIA Novosti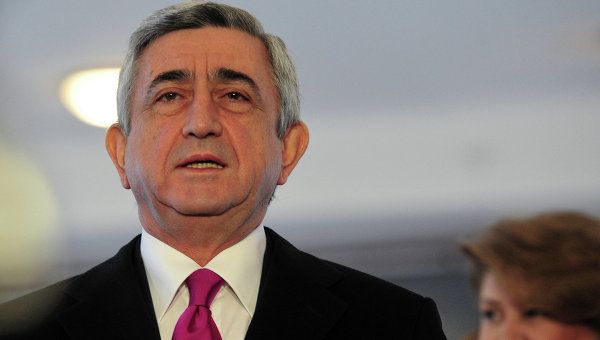 Incumbent Armenian President Serzh Sargsyan has won Armenia's presidential election with over 58 percent of the vote, according to official results announced by the country's Central Election Commission (CEC) on Tuesday.

The CEC said tallies from all 1,988 polling stations showed Sargsyan in the first place with 861,167 or 58.64 percent of the votes followed by US-born former foreign minister Raffi Hovhannisyan with 539,672 or 36.75 percent of the votes.

Other candidates, including Soviet-era dissident Paruyr Hayrikyan and former Foreign Minister of the self-declared Nagorno-Karabakh Republic Arman Melikyan, each garnered less than three percent of the votes.

With voter turnout slightly over 60 percent, or 1,518,000 people, the current count guarantees Sargsyan a certain victory in the first round and reelection for the second five-year term in office.

Polling started at 8:00 a.m. and ended at 8:00 p.m. local time on Monday. Seven candidates ran for the presidency.

Sargsyan, 59, focused his election campaign on populist promises to fight poverty and unemployment as well as to maintain a tough stance in Armenia's long-running territorial disputes with neighboring Turkey and Azerbaijan.

The Organization for Security and Cooperation in Europe (OSCE), which monitored the vote, has not yet commented on the alleged violations during the election campaign and at the polling stations.

Armenian presidential candidate Paruir Hairikyan was shot in the shoulder last month, in an apparent assassination bid. He initially asked for a deferral of the vote, but later withdrew his appeal to the country's Constitutional Court to postpone the election by two weeks.
February 19 2013, 10:08