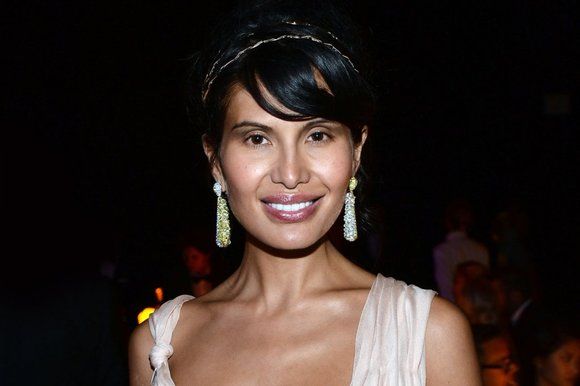 Goga Ashkenazi, 33, is a multi-millionaire businesswoman (Michael Buckner)Goga Ashkenazi, 33, a multi-millionaire businesswoman who helped to broker a controversial deal to buy the Duke of York's Sunninghill Park estate in Berkshire at an inflated price, was turned back in September last year at London's Northolt airport after arriving in her private jet and was told she had been barred from entering Britain.
She is understood to be appealing against the ruling, which is said to have followed the rejection of a number of visa applications by the British embassy in Moscow.
Ashkenazi holds a Russian passport, but a friend claimed she has been using a Panamanian travel document for which she paid more than £250,000.
She was travelling on this document when she was stopped by immigration officers in August 2011 after trying to enter Britain.
She was then allowed to enter the country for the period required for document check. Currently, reports Sunday times referring to the source in the British government, Andrew's rich friend is barred from entering the country and the ban is still valid.
Goga Ashkenazi rejects this information by saying that she's been to Britain twice since August last year.
But the information posted on her Vionnet fashion house's website indirectly confirms the fact that she might have had problems with entrance to Britain. Vionnet.com posted its new owner's complete biography on December 16, 2012 года, when Kazakhstan was celebrating Independence Day. The information read that Goga Ashkenazi is a highly motivated and successful businesswoman who was born in Kazakhstan, grew up in Moscow and was educated in Britain and currently lives in Milan where Vionnet houses its main office.
When such information appeared, the question involuntarily arises: and what to do with the house in West London Holland Park that she bought for 28mln pound sterling. And as it was reported by the British press, the house has a big staff of 15 servants including butler, driver, cooks, house-keeper and baby-sitter? Will they move to Milan too? Or have they already done so?
Goga is considered to be Prince Andrew's close friend. And this is not by a stretch of imagination. Telegraph published on March 8, 2011 the article "Duke of York 'very worried about future as trade envoy' - Telegraph." The lead read: "The Duke of York is "very worried" about whether he can continue as Britain's trade envoy amid the controversy over his ties to a convicted paedophile, a friend has said."
He contacted Goga over Blackberry after the Sunday newspapers contained fresh details over his involvement with the American billionaire, who was sentenced to 18 months in prison in 2008 for soliciting a minor for prostitution.
This demonstrates that they are close friends. He was her guest when she turned 30 and she was his guest when he celebrated his 50th jubilee.
Although Goga Ashkenazi was born in Kazakhstan, she doesn't hold a Kazakh passport. She is the holder of the Russian passport, as well as the passport of the small St. Keats and Nevis island country in the Caribbean. There is no violation, since Russia permits double citizenship.
The Great Britain authorities refuse to discuss with the journalists this private case of Mrs. Ashkenazi's visa issue. On the other hand, she, who seemed to be well settled in London and made envious connections, in actual fact, has moved to Milan. But it is impossible yet to find out if here lies any cause-and-effect relationship.
WKT citing the Sunday Times
February 18 2013, 12:30