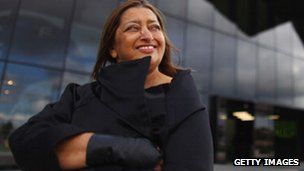 Hadid was made a dame in the Queen's birthday honours last year.Award-winning architect Zaha Hadid has hit out at British attitudes toward female architects.
Hadid, the creator of London's Olympic Aquatic Centre, told the Observer she had faced "more misogynist behaviour" in London than elsewhere in Europe.
"I have noticed it is easier for me in European counties than it is here. In the UK is is more difficult. They are very conservative," said Dame Zaha.
But she added there were also people "who were incredibly supportive".
Her comments follow research by the Architects Journal which flagged up issues of inequality in the industry.
She told the Observer that it was often assumed women were better suited to residential properties or leisure buildings, rather than large commercial projects.
"The idea is that they will prefer to deal with a single client, rather than with corporations or developers."
"I am sure that as a woman I can do a very good skyscraper. I don't think it is only for men," she countered.
'Drift off'
She described the industry as "male-dominated" and hit out at the Royal Institute of British Architects (Riba) failure to keep women in the industry.
"When I taught. all my best students were women. Then they all drift off."
Dame Zaha grew up in Iraq before leaving to study abroad at the age of 17.
Her buildings include the Bridge in Zaragoza, Spain, the Riverside Museum at Glasgow's Museum of Transport, and Guangzhou Opera House in China.
In 2010, her practice won the Stirling Prize for the Maxxi contemporary art museum in Rome.
The following year she won the same prize for the Evelyn Grace Academy in Brixton, beating the favourite for the title, the London 2012 Olympic velodrome.
February 18 2013, 01:52