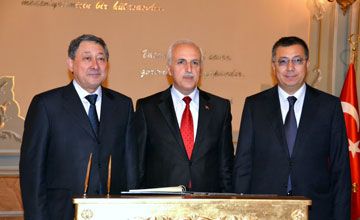 A delegation from Atyrau region headed by its governor Baktykozha Izmukhambetov paid a visit to Turkey, reports Kazinform on Saturday.
According to the governor's press service, the delegation met with Governor of Istanbul Province Hüseyin Avni Mutlu. The meeting mainly focused on the business cooperation between Istanbul Province and Atyrau region.
Later, the Kazakh delegation traveled to the second largest Kocaeli Province. Kazakh Ambassador Zhanseit Tuimebayev also participated in the negotiations conducted during this trip.
During the meetings the governor of Atyrau region briefed our Turkish partners on political and economic reforms in Kazakhstan, new "Kazakhstan-2050" Strategy, and defined potential spheres that are attractive for investment in Kazakhstan, for instance, some specific investment projects, he also spoke about the Customs Union of Russia, Kazakhstan and Belarus and the advantages that it offers.
Currently, there are 44 Turkish companies operating in Atyrau region. The Kazakh-Turkish School has been opened in the region as well.
February 18 2013, 01:20