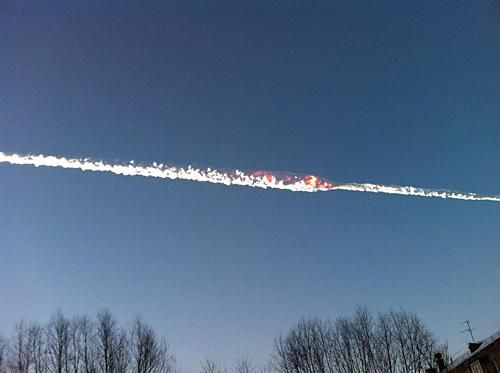 An explosion above Chelyabinsk [Russia] broke windows in many households, reports ITAR TASS.
People are currently being evacuated from buildings.
Witnesses say they heard a number of blasts in the sky of Chelyabinsk, Yekaterinburg and Tyumen.
It could be a meteorite rain, writes the website of Emergency Ministry.
In turn, bystanders presumed it might have been a plane or a missile.
Yekaterinburg's Koltsovo airport also confirmed the information about flashing lights in the sky. According to the airport's media service "the light resembled a meteorite or a comet." Given this, it caused no interruption in flight schedules.
According to Chelyabinsk Times, local emergency department documented blasts before the flash light.
The city of Emanjilinsk, 50km from Chelyabinsk, saw a flying object explode and continue falling. They say a black cloud has covered up the city.
Dwellers of Chelyabinsk say it smells like gunpowder. Life support systems have not been affected, except cellular communication.
In an emergency message the mayor's office announced, people are urged to take their children from schools and return home as soon as possible.
Large glass fractures wounded several workers in the Chelyabinsk digital equipment plant after the burst wave broke windows and crashed down a roof in one of plant sections.
February 15 2013, 10:36