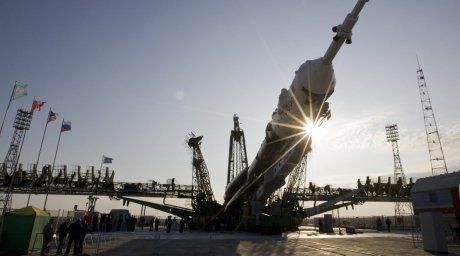 Kazakhstan's Vice PM Kairat Kelimbetov, co-chairman of the intergovernmental committee for Baikonur issues, stated that the Government will make sure any decisions over Baikonur will serve the national interests, Newskaz.ru reports.

"I want to assure (…) national interests of Kazakhstan will be upheld. The Kazakh side will respect all the agreements reached earlier with Russia, our major strategic partner", Mr. Kelimbetov said February 13 following a sitting of the KazKosmos National Space Agency.

"When it comes to joint use of Baikonur, I want to reiterate that Kazakhstan is fully committed to agreements signed by the two presidents back in 2004 to extend the lease of Baikonur into 2050. Kazakhstan and Russia have been strategic partners, including in space research. All possible issues are being resolved by the intergovernmental committee co-chaired by Russia's First Vice PM Igor Shuvalov on the Russian side", he said.

"Notably, there is an issue related to Kazakhstan's move to reduce the number of launches of carrier rockets that run on highly toxic fuel and exert an adverse influence on the environment. The Russian side has agreed to stagedly reduce the number of Proton launches that are the most harmful for the environment".

He also reminded that back in October 2012 the two presidents tasked the intergovernmental committee to thrash out joint use of Baikonur. "The work is under way: discussions and exchange of opinions (…) the two national space agencies are working out an agreement on expanding the research potential of Baikonur, Kazakhstan's space industry personnel development, greater involvement of Kazakhstan's specialists in space projects (…) the current year will be dedicated to accomplishing these tasks. And we will report on the progress", he promised.

Mr. Kelimbetov noted that the first sitting of the intergovernmental committee will be held in March 2013 in Baikonur town. "Before the end of 2013 we should elaborate a legal framework to attend to all the issues", he said.

Earlier a number of media had reported that Russia and Kazakhstan might terminate space cooperation over restriction of the number of Russia's launches from Baikonur. The Russian Foreign Ministry's note read that the official Moscow would revisit its stance on further cooperation within joint projects.

However, January 25 when commenting on the note sent by his Ministry to Kazakhstan in relation to the reduced number of Proton carrier rocket launches from Baikonur, Russia's Foreign Minister Sergei Lavrov said that "I wouldn't tag the situation a dispute (…) There is nothing outstanding in exchange of notes. Exchange of notes is a regular practice on a wide range of issues that are likely to arise given the large scale of cooperation between Kazakhstan and Russia".

Kazakhstan's Foreign Minister supported his counterpart, saying that "there is no scandal, no sensation, no rows between Kazakhstan and Russia over Baikonur. I've seen many comments and keen interest of the media (…) misleading stories have been multiplied. I even saw some headlines stating that Baikonur is an apple of discord between Kazakhstan and Russia. I want to emphasize that nobody can have Russia and Kazakhstan having rows".
February 14 2013, 12:36