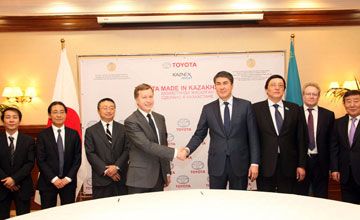 Production of Toyota cars in Kazakhstan will be launched in spring 2014, Deputy Prime Minister - Minister of Industry and New Technologies of Kazakhstan Asset Issekeshev stated at the signing ceremony of the memorandum of understanding between Toyota Morot Corporation and the Government of Kazakhstan.
The Toyota cars will be produced at the facilities of LLP "Sary-Arka Autoprom" in Kostanay. It is planned to produce up to 3000 cars every year.
"The project "Toyota - Made in Kazakhstan" is an important milestone for Toyota Corporation and for Kazakhstan, this is the result of our cooperation with the Government of your country. We firmly believe that the potential of growth of Kazakhstan's economy and the country's automotive market is great," said Didier Leroy, President and CEO of Toyota Motor Europe - Managing Officer of Toyota Motor Corporation.
February 12 2013, 15:56