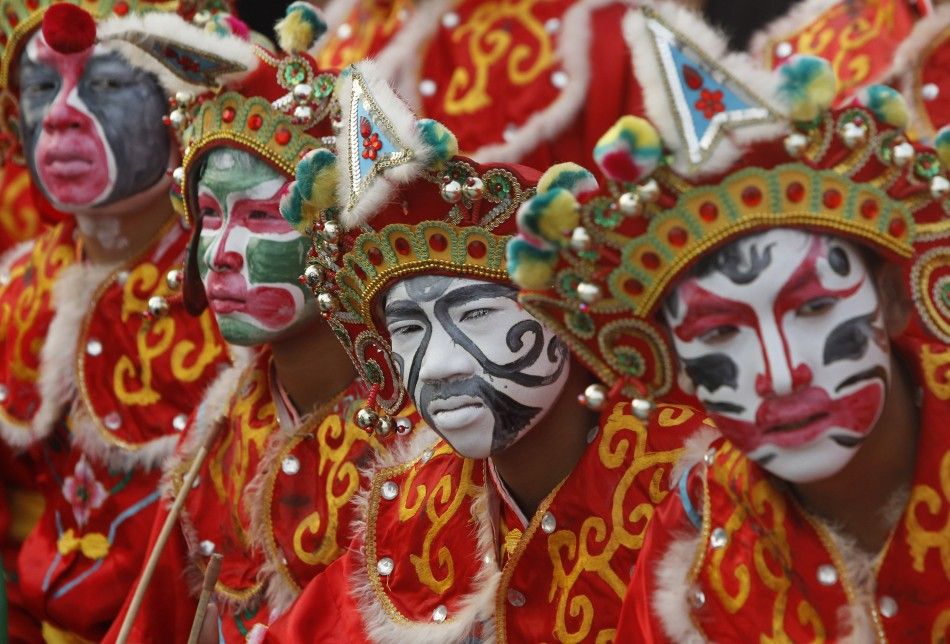 Traditional Chinese dancers wait to perform during the Chinese Lunar New Year Celebrations. The Lunar New Year, also known as the Spring Festival, begins on February 10 and marks the start of the Year of the Snake. Photo:ibtimes.co.ukThe Chinese have bid adieu to the Year of the Dragon and gracefully welcomed the Year of the Snake. The Chinese New Year 2013 has been enthusiastically celebrated across the world, to mark the arrival of the Water Snake - which Chinese astrology considers powerful and associated with the notion of Karma.
Chinese nationals and believers in Chinese mythology displayed their deep attachment to the traditional values with a wonderful welcome to the New Year, no matter which part of world they were in. Spectacular celebrations filled with colours were seen in countries including Malaysia, Taiwan, Singapore, the United Kingdom, Mexico and India. Night skies were lit on Saturday with the continuous bursting of firecrackers, to bring good fortune. The celebrations continued until the early hours of Sunday morning.
Freezing temperatures and a plea from the government to restrict the use of firecrackers (in an attempt to control a growing and dangerous pollution problem) failed to have any truly significant impact.
Chinese astrology says those born in the Year of the Snake are considered intuitive, introspective and refined, although they can be manipulative, scheming or even proud. Financially, the year is predicted to be good for Snake people but they are expected to face medical problems.
February 11 2013, 11:38