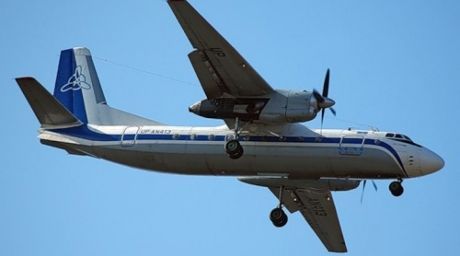 SCAT's AN-24 airplane. Photo: fotki.yandex.ruSCAT airline's AN-24 airplane skidded off runway at the Almaty airport when landing with 24 passengers on board, airline press service reported.
The incident happened on February 7 at 00:25.
The plane was performing Taraz-Almaty flight.
No victims or injured reported.
The airplane has no damages. After full stop, the plane was hauled to the parking place.
"There were 20 passengers onboard and four crew members. Passengers were evacuated right after landing; the plane was hauled to parking place. Nobody harmed," reads the airline statement.
According to witnesses, after landing the plane skidded off runaway and nearly tilted over to one wing. A passenger said that during the incident the airline steward "flew all the way to the end of the cabin" and received bruises and unfastened passengers fell off their chairs.
To recall, on January 29 in the village of Kyzyltou, an airplane owned by SCAT crashed 7km from Almaty airport in its second attempt to land.
According to prosecutors, the plane was performing Kokshetau-Almaty flight.
The accident claimed lives of 5 crew members and 16 passengers.
By a presidential decree January 31 was declared the national day of mourning.
February 7 2013, 18:01