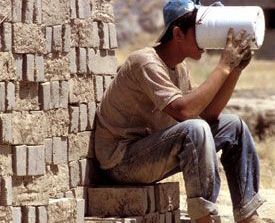 Government has developed an anti-crisis program, which should help reduce gap between the rich and the poor in Kazakhstan, said deputy PM Yerbol Orynbayev.
"First of all, it is connected with the economic growth we are experiencing in our country. Mining sector – oil and gas industry - is a leading sector that contributes to the economic growth. It is important that the wealth generated in the country should be distributed among all Kazakhstan citizens, so each citizen is able to see himself as a part of the economic growth and improve his/her living standard," said Orynbayev at an extended session of the collegium of the Ministry of Labour and Social Protection of Population on Thursday.
He underlined there shouldn't be the big gap between the rich and the poor we currently have. "We don't have big gap as it is in America, but such trend exists and the gap is big. A small group of very rich, another small group of poor and a very slim layer of middle class," noted Orynbayev.
The anti-crisis program - a road map - that the President instructed the Government to develop, should help reduce this gap.

"Based on preliminary discussion, we are now thinking that it should be based on employment program. This is important sector. The redistribution factor of the anti-crisis program will help form strong middle class," concuded deputy PM Orynbaev.
February 7 2013, 17:20