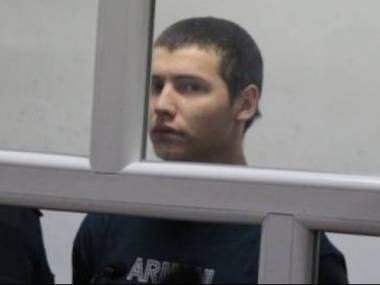 Vladislav Chelakh. Source:BNews.kzThe sentenced frontier guard Vladisklav Chelakh will not appear before the appeal court today, Bnews.kz reports.
The Military court told the journalist that Chelakh refused to be present at the appeal board.
The criminal case in the appeal court will be reviwed by the Military court judge Bakhytzhan Karamonov.
Chelakh's case was filed for an appeal by his lawyer Serik Sarsenov on January 14, 2013.
To recall, on May 30, 2012, bodies of 14 border guards and a forest ranger were found at the border post Arkankergen in the Almaty Oblast. Vladislav Chelakh, 19, the only survived soldier, admitted killing his fellow soldiers. In late July, he denied his previous evidence claiming to have given it under psychological pressure. A psychiatric examination found Chelakh sane.
On December 11, Vladislav Chelakh was sentenced to lifetime imprisonment.
He refused to attend the trial to say his last word. The lawyer Sarsenov didn't show up too, as he had previously promised. He wasn't seen during reading of the sentence as well.
WKT
February 5 2013, 09:54