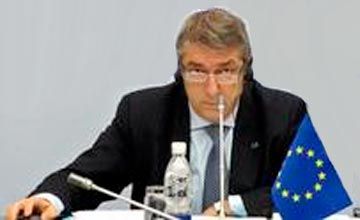 "We can find ways to ease the visa regime between the EU and Kazakhstan," Paolo Bartolozzi, head of the European Parliament's Delegation for Central Asia, said answering the question of Kazakh journalists about the prospects of easing visa restrictions between the EU and Kazakhstan after his meeting with Foreign Minister of Kazakhstan Yerlan Idrissov.

According to him, during the talks with the Foreign Minister they discussed the strengthening of partnership and cooperation, as well as the expansion of cultural, commercial and trade exchange between Kazakhstan and the EU.

The head of the EP delegation for Central Asia noted that the simplification of visa regime is a very complex and multifaceted issue that requires coordination among the 27 EU member states as well as the Schengen area member states.

"I think we can find a solution that will be very beneficial for both parties, because the European side is aware that the EU is the largest trading partner of Kazakhstan ... In order to develop trade and economic relations and development of Central Asia, we can find ways to ease the visa regime," he said.
January 30 2013, 11:20