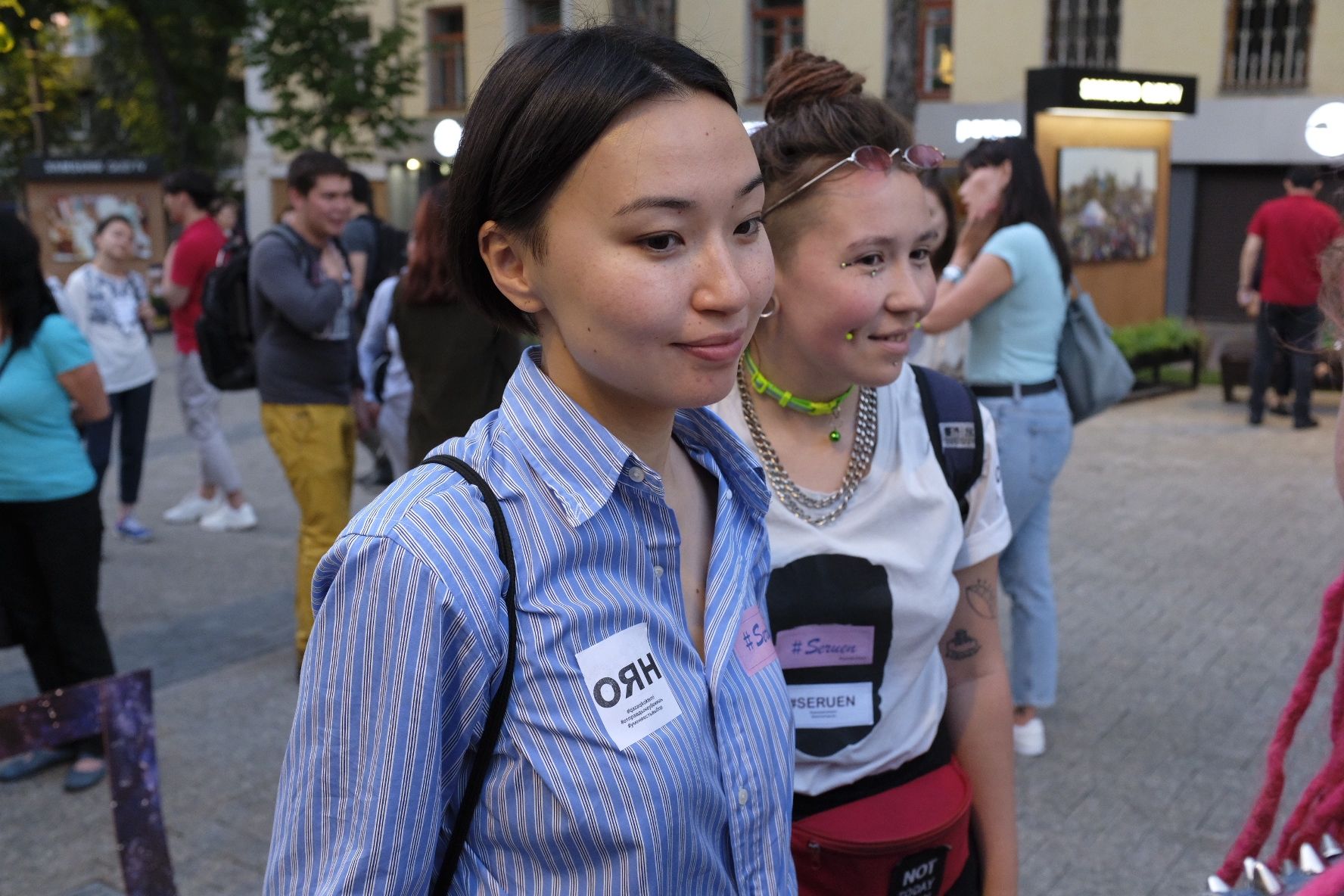 Some activists have had their apartments subjected to aggressive snap raids, others are being summoned for questioning by law enforcement. In a couple of cases, protestors have been suddenly called up for military service.
RFE/RL's Kazakh service reported on June 7 that a group of unknown people, presumed to be law enforcement officials, had barged into and ransacked the apartment in Nur-Sultan (formerly Astana) of Akmaral Kerimbayeva, an activist involved in an anti-government rally that took place on May 1.
"Two unknown and heavily-built people in plainclothes … ignored requests for them to present their documents and to state whether they had a warrant to conduct a search," a journalist for the broadcaster reported.
Kerimbayeva was a participant of a rally on May 1 in which demonstrators aired a variety of complaints toward the government, ranging from suspicions that the upcoming election would be unfair to frustration over a recent decision to rename the capital after Nursultan Nazarbayev, who stepped down as president in March.
Also on Jun 7, a court in Nur-Sultan decided to extend the house arrest of Serikjan Bilash, a rights defender who has made a name for himself raising the plight of ethnic Kazakhs caught up in the wave of repressions against Muslim minority groups in China's Xinjiang province. Bilash is now set to remain under house arrest until at least July 10, pending further investigations and a trial on charges of "inciting public discord."
The charges against Bilash stem from what authorities claim is his campaign to whip up passions against China. The urgency of the case appears, however, to have been heightened by the Kazakh government's concern about the potential for Xinjiang-related activism to sour its relations with Beijing. Bilash has also been unabashed in leveling criticism at Nur-Sultan, which he has accused of inaction over the Xinjiang question.
Earlier this week, Aiman Umarova, a lawyer who has acted for Bilash, wrote on her Facebook page that she found her dog had been killed outside her home. Umarova said she was interpreting this as an act of intimidation against her.
"Apparently, what they are saying to me is: "Shut up,'" she wrote.
Umarova has also acted as legal representative for Sayragul Sauytbay, an ethnic Kazakh woman wanted by authorities in China for disclosing information about the network of prison camps in Xinjiang. Sauytbay last year faced down prosecution from authorities in Kazakhstan for crossing into the country with illegal travel documents, something she did to escape neighboring China. In a rare case of clemency, Sauytbay was handed a suspended sentence and was this week permitted to leave Kazakhstan so that she might apply for asylum in Sweden.
Other government critics have faced more indirect measures.
Late last month, Alimzhan Izbasarov, another opposition activist, received a notification from the Defense Ministry summoning him to do his military service. He told reporters at the time that he believed this was a reprisal for his involvement in the May 1 rally, which saw him initially penalized with a 15-day stay in jail.
Izbasarov, 23, was taken in to the military commissariat on June 5, despite presenting what he said was medical documentation showing that he is not fit to do military service.
It is not just Izbasarov that the army suddenly summoned for the draft.
The same fate last month befell 20-year-old Beybarys Tolymbekov, who caused a sensation in April by unfurling a banner on the sidelines of a marathon in Almaty to demand free and fair elections. The slogan on the banner, "You cannot run away from the truth," has become something of a rallying cry for a burgeoning youth-led opposition wave.
There is also some concern about the fate of Dana Zhanayeva, a 24-year-old activist from the western city of Aktobe, who late last month addressed an online letter to the president of the European Council, Donald Tusk, in which she raised the problems of human rights violations in Kazakhstan. Her letter was co-signed by more than 1,000 people.
Zhanayeva has, according to her colleagues, been compelled to delete her social media accounts and is facing expulsion from the university where she is studying. Her supporters have begun circulating the hashtag #savedana and appealed to international organizations for their support.
In yet another suspicious incident on June 6, a press conference in Almaty organized to discuss the difficulties of low-income families, which has become a contentious political issue in recent months, descended into chaos after a large group of unknown people invaded the premises.
"Before the start of the event, a large group of women describing themselves as mothers with many children filled up the press club and prevented journalists from coming in," wrote Sergei Duvanov, who works at the rights center where the press conference was to take place.
Duvanov said the interlopers later continued to cause a disturbance in the corridors, shouting that they would not allow "Kazakhstan to become like Ukraine."
"It was during this incident that it became clear that this 'public' protest had been organized with the cooperation of certain offices at the Almaty town hall," Duvanov wrote, airing his suspicions without evidence.
While critics of the government come under this many-pronged assault, interim President Kassym-Jomart Tokayev wrote on Twitter that "dialogue between the authorities and society should be based on the recognition of a plurality of opinions about the future development of Kazakhstan."
In expressing these views, he said he hoped young people would help facilitate this process.
"Our young generation is smart, creative and patriotic! It will get a chance to achieve its dreams," he wrote.
Almaz Kumenov
June 9 2019, 12:49