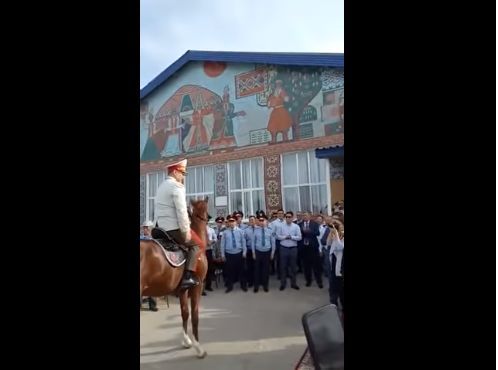 The head of state noted that strict measures would be taken against the head of department.
President Kasym-Zhomart Tokayev instructed the Minister of Internal Affairs to conduct and internal investigation into the head of the Atyrau Oblast Police Department, Ayan Duisembayev.
There is much debate online regarding a video of a man, who looks like Ayan Duisembayev, accepting a horse as a gift. In the description of the video it says that the horse was presented to the Major General by a businessman.
Minister of the Interior, E. Yerlan Turgumbayev, was charged with conducting an internal investigation into the head of the police department of the Atyrau region in connection with his immodest behaviour. Strict measures will be taken Kasym-Zhomart Tokayev wrote on his Twitter feed.
Earlier, the Interior Ministry reported that an official investigation has already begun.
Last year, a video appeared on social networks in which a man, like Ayan Duisembayev, plays in a casino. The Ministry of the Interior reported that the footage was taken back in 2014 in Minsk. Duisembayev, as reported by the Interior Ministry, did not play at the casino, but came to pick up a friend.
Ayan Duisembayev – Head of the Police Department of the Atyrau Region, Major General of Police. In the past he has worked as the commander of the Arlan division of the special department of the Atyrau Oblast Department of Internal Affairs, and was also head of the Department of the Ministry of Internal Affairs. He was appointed to his current post of head of the regional police department in August 2016.
Sourse: Sputniknews.kz

May 16 2019, 08:26